October 18, 2021
Day in the life of… Category Director of Berries Dean Barbis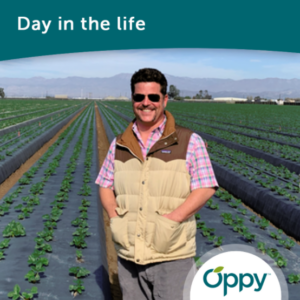 Studying economics and business management at the University of Nevada-Reno, Dean started his produce career in 1994 as an intern at Stamoules Produce Company, "and the rest is history," he said. He worked in various produce sales and marketing roles at Bonipak Produce Inc, SunFed, US Fresh and more, until joining the team in 2016 as sales manager when Oppy entered a joint venture with the Hasegawa family. He served as berry category manager before being promoted to his current position in 2019.
Dean oversees all aspects of Oppy's berry category, guiding its strategy and expanding the current offerings it grows in the U.S., South America and Mexico. A typical day starts with updating inventories, verifying what's incoming from which regions, then sharing that information with the sales team. Once that is updated you can find Dean on calls with Oppy partners planning the next move — shipping berries 12 months out of the year, Dean's phone doesn't stop ringing.
Playing an essential role in the development in the Ocean Spray berry brand, Dean's favorite projects to work on are bringing on and helping to set up new partners, saying, "There's nothing better than seeing a new partner's fruit go to market via Oppy." It helps when you're in good company too, sharing that his favorite part about working at Oppy is the people.
An avid outdoorsman, Dean moved from his hometown of Visalia, CA directly south towards the ocean to Shell Beach, CA to enjoy surfing, biking, skateboarding, hiking or as he says, "just sitting on a bench outside taking it all in." Dean and his husband of eight years are proud parents of two Chihuahuas.
Looking to the future, Dean shares that there are some very exciting deals getting ready to launch this year, "and I can't wait to see them take off!"