February 1, 2021
Day in the Life of… Sales Assistant Regina White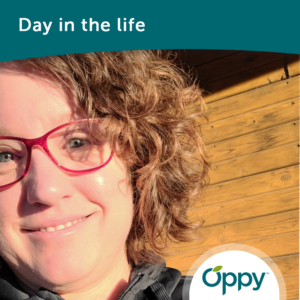 Born and raised in Visalia, California, Regina moved to Everett, Washington in 2014 and now calls Belt, Montana, home. Regina has a certificate in accounting and first joined Oppy in March 2009 as an accounts payable coordinator. She has since held a number of different roles within Oppy's sales department leading up to her current position supporting our Canadian sales team, while being based out of the United States.
While no two days are alike for Regina, she manages inventory and processes purchase orders on a daily basis. Regina works alongside a team of hot house tomato experts—performing the daily tasks of ordering, processing, and managing the logistics behind moving produce out of Mexico. She is excited to expand her knowledge on kiwifruit, as well as continue to learn and execute the many programs in Canada. As she continues to master her understanding of Optimo, she is grateful for the stability and support that she receives from her team.
A former member of the Champions of Change, Regina is a strong believer in ChaCha's impact and encourages everyone to participate in what she considers a potentially life-changing experience. Looking forward, Regina is eager to expand her growth and to train future sales assistants like herself.
Regina is a proud mother of two children that are members of the United States Navy and the Marine Corps. She lives happily with her husband and a dog that she describes as the equivalent of a 3-year old child that exuberates unconditional love each day. Some words of wisdom from Regina: "Remember to smile on the phone, they can hear it!"
Regina is looking forward to becoming a grandmother in April, 2021. Congratulations, Regina!