May 15, 2019
Day in the life… of Quality Control Supervisor, Rodrigo Maureira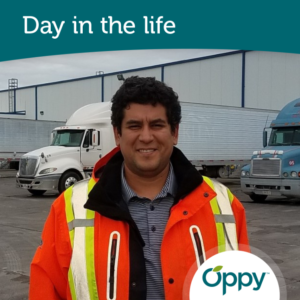 Graduating with a degree in agronomy from the Mayor University of Chile, Rodrigo worked in QC at multiple fruit companies throughout his studies, including Oppy grower partner David Del Curto. He was hired at Oppy seven years ago as QC inspector at our Carson office and just two years ago moved to McAllen, Texas to work remotely as QC control supervisor at the Hidalgo Texas Port of Entry.
A regular day for Rodrigo includes slotting orders, inspections and coordinating with sales and logistics throughout the McAllen area. He also organizes inspections with Oppy's contracted QC team in the main office. Moving to Texas has been a career highlight for Rodrigo, who also recalls inspecting grapes in the San Joaquin Valley a few years back as a favorite project.
Rodrigo and his wife Natalia made the move with their daughter Javiera, son Gustavo and pup Estrella.
"I like to work here because people put their trust in me to make the best decisions from the tasks I'm assigned. It gives me confidence and I think it's the best way to develop my professional capabilities," Rodrigo said of his empowered role at Oppy. "I hope to be part of the team for a long time and continue growing in my job and beyond."