November 15, 2022
Day in the life of… Quality Control Supervisor Denise Leyton-Rojas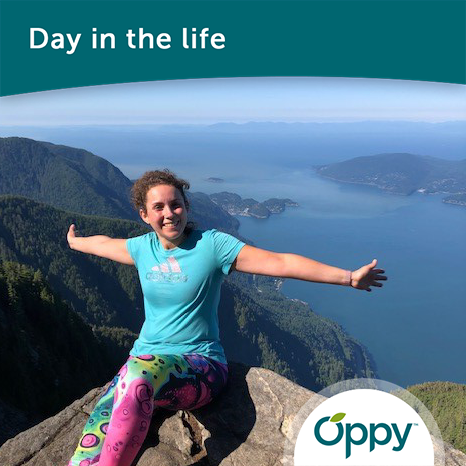 Born and raised in Chile, Denise moved to Canada in 2017 and currently resides in BC's Lower Mainland.  She studied agricultural engineering at the Universidad de Chile earning a diploma in agroecology. Prior to Oppy, Denise worked as a quality control inspector, food safety certifier and organic certifier. Notably, she was   a food safety certifier for NSF International where she gained food safety experience inspecting restaurants, like Pizza Hut and Taco Bell. When the opportunity to work in Canada arose, Denise jumped at the chance to join some of her family, "I was only supposed to be in Canada for three months, but I was determined to stay. After my contract at a blueberry farm ended, I was hired at Oppy in the quality control department." Denise has since held many roles at Oppy including quality assurance coordinator, quality control inspector and she was recently promoted to quality control supervisor in January 2022.
Denise typically starts her day with a planning discussion amongst her team to identify immediate action itemst. She then meets with other departments as necessary and surveys the warehouse to support any issue that may arise. Her favorite contribution to Oppy thus far has been coordinating the automated CFIA custom release request with the IT team this year.
Denise believes that "Being a part of the Oppy family is the best aspect about working here. We all do our jobs well and have moments to laugh and connect with each other." She is also a part of the health and safety committee and first aid team.
For fun, Denise enjoys music, dancing, spending time with friends and being outdoors, "I have so much energy, I love to keep busy!" With most of her family still in Chile, she wishes she could travel to see them more often. In 2021 Denise tragically lost her partner, "One of the main reasons I stayed in Canada is that I met my partner Lawrence. Though he passed away in 2021, he changed my life forever."
Looking forward, Denise hopes to continue growing her career in the quality control department, and experience working in other parts of the company.