April 26, 2017
Happy trails, Linda!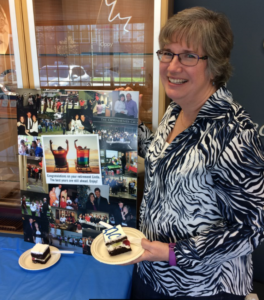 After nearly 26 years at Oppy, the IT department's most long-standing member is turning her attention from the inner-workings of Optimo to the excitement of the Great Outdoors.
Linda Soer retired on April 21, with plans for a 6-week camping trip throughout British Columbia this summer and an open mind to any adventures that lie ahead.
Linda has been long appreciated by her colleagues in IT and across the company for being kind, thorough, and conscientious, while successfully undertaking some of the most complex assignments ever handed to an Oppy person.
Dale Marthaller recalls, "When I started out with Oppy, the entire IT department was crammed into a space about the size of the current tech group's office. I couldn't get out of my chair without warning Steve (Roosdahl) who sat behind me, as the back of my chair almost touched his. At that time, Linda was the person with Oppy experience that knew everyone in the company, knew what they did, knew their history and even what time of day was best to call them. Linda was also the in-house expert on the PINE email system."
Over the years, Linda designed and developed software, mentored and trained staff, supported hardware, networking and business process software; set and maintained security policies and, of course, managed almost all of the user-facing documentation — all with her quirky good humor, warmth and unparalleled attention to detail.
She will be dearly missed by all at Oppy, who wish her every happiness in her retirement.