March 27, 2019
Perpetual positivity fuels new BC greenhouse brand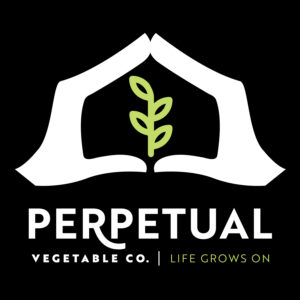 After more than a quarter century of growing and packing for others, the Randhawa family of greenhouse growers has stepped purposefully into the spotlight with a brand of its own.
Moving forward, peppers and cucumbers grown by the Randhawas under 76-plus acres of glass in Abbotsford, BC will bear the evocative Perpetual Vegetable Co. brand, a move bound to heighten the grower's profile with retailers and engage consumers with a unique message.
"To us, the word 'perpetual' means the continuous cycle of life," said Vijay Randhawa, business director, who manages the company alongside his father, Kan, and brothers Ajay and Amit. "It's about sustainability, rejuvenation and energy. The food we grow becomes vital energy for people. We know that eating fresh produce means making a positive choice for yourself and your loved ones. Our brand represents that perpetual cycle of eating well, feeling good, and inspiring others to do the same by being positive and productive."
Supporting the Perpetual Vegetable Co. brand is the positioning line "Life grows on" which Randhawa said conveys the spirit of the label in both practical and philosophical terms.
"Greenhouses are recognized as the future of farming, considering scarcity of land and the critical necessity to conserve resources," he said. "We can grow upwards of 20 times more per acre of land with dramatically less water than outdoor farming, while managing any pests naturally. The control systems in our greenhouses allow for the conservation and recycling of water, carbon dioxide and other valuable nutrients. Because of these systems, life grows on, like people with their children and plants with their seeds."
Long seedless cucumbers and sweet bell peppers grown by the Randhawas in the Perpetual Vegetable Co. brand are available exclusively from Oppy.
"It's exciting to see the Randhawas' positioning their business and products for new opportunities with the Perpetual Vegetable brand while making ongoing investments in their operation," said Oppy President David Smith, pointing out expansions like two new packing lines and over 20,000 square feet of cooler space added in the last year. "We appreciate the chance to contribute to their strategy and present this high quality branded product line to our customers together."
Aaron Quon, Oppy's executive greenhouse category director, concurs.
"We've worked with the family for over six years, and enjoyed watching Kan pass his expertise and his passion for growing along to his sons, each of whom exemplifies the positive message of Perpetual Vegetable Co. through their own experience and contributions to the farm," he said. "As the responsibilities are shared between generations, it's inspiring to see how 'life is growing on' as Vijay, Ajay and Amit are carving out a new future for the company alongside their parents. We believe the new brand will help them progress toward their goals and engage people in interesting and exciting ways."
Randhawa noted that ongoing upgrades and creative innovations position the Perpetual Vegetable Co. brand for a strong debut season.
"This should be the best season yet for our company, in terms of quality and customer service," he summed up. "We have added infrastructure and are experimenting with different methods to help improve forecasting, extending shelf life, and more. We want to do our part to help our customers with the balancing act of offering fresh, nutritious vegetables at an accessible price to everyone."
Join Oppy and representatives of the Randhawa family at CPMA booth 1309 to learn more about Perpetual Vegetable Co. and plans for the summer season.