August 30, 2016
Orchard View celebrates record-breaking "Pick Your Moments" season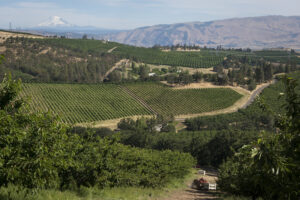 The team at Orchard View and exclusive marketer Oppy wrapped up cherry season on a high note, crediting a banner year to excellent weather, new technology and an engaging new brand.
"It was a 'Pick Your Moments' season," said Brenda Thomas, Orchard View president, citing the positioning line launched by the grower in June. "The effort we make year-round to prepare for the brief but intense cherry season really paid off this year. We shipped a large crop of great tasting cherries over eight weeks and enjoyed high demand throughout."
While an average harvest on Orchard View's 2,500 acres near The Dalles, Ore. yields 10,000 tons of cherries, this summer brought a 14,000-ton harvest, a new record for the grower. "We survived two rain events with minor damage, which was incredibly fortunate," Thomas said. "And we harvested cherries from every single one of our orchards."
David Nelley, executive category director for Northwest cherries at Oppy shared Thomas' enthusiasm. "We were thrilled by the quality of the crop, and especially by its reception at retail. Orchard View is the preferred NW cherry grower for many of our customers, and it was exciting to deliver such excellent fruit all season long."
Responsible in part for enhancements in pack quality was the addition of a Unitec optical sorter, which delivered beautifully on expectations, according to Thomas.
"The Unitec sorter's performance heightened our confidence in the quality of every box of cherries that came off the line," she said. "That confidence had a ripple effect with our customers and their shoppers. We saw a lot of repeat purchases and heard from many consumers who were excited about their experiences with Orchard View cherries."
The Unitec line sorts for sizing, defects or blemishes, as well as softness—which is difficult for people to do—very accurately. It also uses less labor and is especially reliable because it optically judges each cherry consistently without inevitable human factors like fatigue or distraction.
Thomas also points to the "Pick Your Moments" marketing campaign, which involved an updated logo as well as packaging, in-store materials, advertising and social media, as a highlight of the season.
"We've been growing cherries since 1923," Thomas said. "The new logo conveys our vintage while also being fresh. We've tuned up our look, showing we're in the game for all generations. And we loved the ways 'Pick Your Moments' came to life over the course of the season. People really do cherish their cherry moments and were eager to share their recollections and experiences with us on social media. We had lots of fun engaging with more people who love cherries every bit as much as we do this season."
While individuals over age 40 tend to be more frequent cherry shoppers than younger consumers, the team at Orchard View is eager to further enhance the appeal of cherries to the next generation in the years ahead.