November 30, 2016
Oppy culture honored among Canada's Most Admired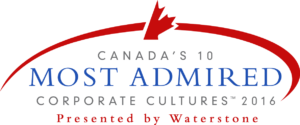 Over the years, the produce industry has come to know Oppy by its expect the world from us promise. Today, the premier produce sales, marketing and distribution company has been recognized for the way that promise manifests itself—in a positive, results-driven corporate lifestyle that stands out among Canadian organizations.
Waterstone Human Capital, a leading retained executive search firm specializing in recruiting for fit and cultural talent management for entrepreneurial-minded, high-growth organizations across North America, has honored Oppy for cultivating one of Canada's 10 Most Admired Corporate Cultures in its 2016 enterprise category.
This national program, now in its 12th year, annually recognizes best-in-class Canadian organizations for having cultures that enhance performance and sustain a competitive advantage. Forty winners are annually chosen across four categories; three are based on revenue (growth and small cap, mid-market and enterprise) and one not-for-profit category (broader public sector). Organizations are scored on six categories: vision and leadership, recruitment and hiring for fit, cultural alignment and measurement, retention, rewards and recognition, organizational performance and corporate social responsibility.
"What's so impressive about our diverse list of 2016 winners is their shared belief that culture is their competitive advantage – they know that building and sustaining a great culture is a significant asset that drives performance," said Marty Parker, president and chief executive officer of Waterstone Human Capital and Chair of Canada's 10 Most Admired Corporate Cultures™. "The winning organizations have shown diverse strategies in achieving inspirational cultures that have measureable results."
Oppy Chairman, President and CEO John Anderson has long placed high value on culture, pointing to a healthy culture as a barometer for all aspects of an organization's success.
"Our culture has been built deliberately and conscientiously over the years," Anderson said. "When we launched our expect the world from us promise a dozen years ago, we created clarity around our ethos and our expectations of ourselves and one another. We're united in our efforts to achieve clearly defined goals, and believe in equipping and empowering everyone at Oppy to do their part. Communication moves in every direction, keeping us strategically and culturally on track."
Anderson noted that the result of Oppy's positive culture is high satisfaction proven out by annual staff surveys, and low employee turnover.
"The average career at Oppy is about eight years long, though many have celebrated, 20, 30 and even 40 years with the company," he said. "I'm proud of the amazing teamwork I see here every day. The culture is the engine that keeps the machine running smoothly and effectively—I have no doubt that it's the key to our success."