August 11, 2016
Oceanside Pole's 75th season hits stride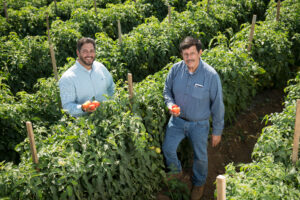 Oceanside Pole is on a roll.
With vine-ripe rounds and romas reaching peak volumes this month, the legendary Southern California tomato brand is primed for late summer promotions.
This season, distinguished tomato grower Harry Singh, Jr. and his family—along with exclusive marketer Oppy—celebrate 75 years of producing vine-ripes in Oceanside, Calif. by presenting an exceptional crop to the market, according to Mark Smith, senior sales manager for Oppy.
"As the Singh family has perfected the art of selecting the best seeds and growing vine-ripes on poles over the last three quarters of a century, they've become known for tomatoes that consistently deliver on flavor and eating quality," said Smith. "This season has brought some of the best tomatoes we've seen, as if Mother Nature knew this crop should be a special one."
Priya Singh, general manager, is a third generation grower at the company that became known as West Coast Tomato Growers (WCTG), owners of the Oceanside Pole and Cal-Tom brands, in 2012.
"My grandfather chose the San Diego area because of a microclimate that lent itself to growing the highest quality and best tasting tomatoes in California," he said. "Harry Singh Sr. passed his love and passion for farming to my father, who expanded the operation to grow various crops like round tomatoes, roma tomatoes, bell peppers, strawberries and cucumbers along with others. Through his hard work, dedication and passion, Harry Singh Jr. built one of the most respected produce labels in the tomato market."
Harry Singh Jr.'s sons and daughters are currently involved in all facets of the operation, from packaging, to accounts payable, to human resources, to growing at WCTG, where the focus is now exclusive to rounds and romas.
Oppy sales and quality assurance staff relocated to Oceanside yet again this season, to work closely with WCTG counterparts assuring tomatoes ship to each customers' size and arrival color specifications.
"While Oceanside Pole tomatoes are perfect for "grown in California" local promotions, they are popular throughout the U.S.," Smith said. "Retailers seeking flavorful, meaty, clean-cutting tomatoes that are naturally ripened instead of gassed-green will appreciate the difference without doubt."
Smith also encouraged tomato fans to keep an eye on Oceanside Pole, noted that this highly respected 75-year-old may sport a youthful new look before the season is out.
Oppy is offering Oceanside Pole and Cal-Tom vine ripened rounds and romas produced by the Singh family into November.