January 14, 2019
Oppy urges retailers to PepperUP with big Divemex displays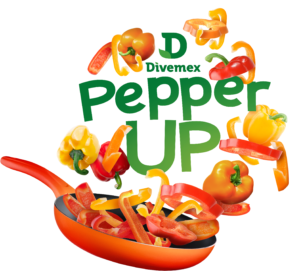 Creative pepper displays can earn cash in more ways than one.
Not only are Sweet Bell peppers the second most popular vegetable behind potatoes, the leading greenhouse vegetable producer Oppy—and grower-partner Divemex—are sponsoring a display contest worth thousands of dollars in prizes early in the new year.
Running from mid-January to the end of March, the Divemex "PepperUP" competition invites retailers to construct large, creative displays of Divemex-branded Sweet Bell and Mini peppers in bulk and assorted pack styles. The builder of the top display will cash in on the $2,000 grand prize, while second place earns $1,000 and third will receive $500. The first 50 entrants can select from $25 Subway or Starbucks gift cards.
"Peppers are among the most eye-catching items in the produce department," said Aaron Quon, executive director of Oppy's greenhouse category. "We are encouraging our customers to drive sales by bringing their pepper displays 'up' in size, or in location, like moving the display 'up' to the front of the store or department. Another way to 'PepperUP' would be to include organic and conventional peppers on display, or up-selling to a socially conscious consumer because all Divemex peppers are Fair Trade Certified."
Divemex greenhouses are located in the states of Sinaloa, Nayarit and Jalisco, Mexico. Its season spans late August through late May. A pioneer known for growing beyond expectations, "Divemex delivers exceptional pepper quality, appearance and flavor, made possible by years of growing expertise and sophisticated production practices undertaken in high tech greenhouse environments," Quon said.
The 2018-19 season is progressing well, according to Luis de Saracho, Divemex's CEO. "With production in Culiacan entering the market now to supplement our supplies from the Jalisco greenhouses, we're excited to see volume ramp up and make peppers plentiful for the display contest and more."
Oppy is offering bright, large-scale PepperUP point-of-sale signage to bring even more attention to the Divemex displays. Photo entries can be emailed to or uploaded at [email protected], along with produce manager name, store name, number and address, and email and phone contact information, and preference of Starbucks or Subway gift card.
Winners will be notified on or before April 30, 2019.