February 25, 2020
Oceanside Pole ushers in Brussels Sprouts, tomatoes for 2020 season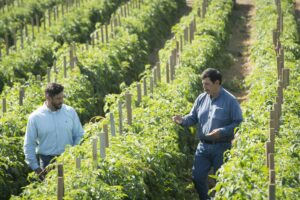 Setting the stage for another outstanding vine-ripe tomato season, Oceanside Pole is currently offering high quality, and highly anticipated Brussels sprouts.
Oceanside Pole Brussels sprouts complement the legendary grower's much-anticipated round and roma pole grown tomato crop, tuning up the soil while extending the opportunities for the workers on the farm.
Thanks to the cool night temperatures and foggy, salt air, Oceanside Pole grows some of the best coastal sprouts in California, which are offered through the first week of June. The multi-generational family farm will also ship its popular vine-ripened tomatoes by the end of June through to the first week of November.
"Retailers continue to look forward to Oceanside Pole's tomato season and this year is no exception," Oppy's Senior Sales Representative James Galindo said. Oppy is the exclusive marketer of the Oceanside Pole brand, selling on-location at the farm through the season. "The reputation of these tomatoes precedes itself, making them highly-sought after and rightfully so — their taste, texture and shelf life are truly exceptional."
As the last remaining pole tomato producer in California, Oceanside Pole takes pride in their on-the-vine ripening process, which allows for a greater flavor profile compared to gas-ripened tomatoes while maintaining a strong shelf-life. Customers have also taken note of this superior quality and demand continues to grow, with West Coast Tomato Growers, owners of the Oceanside Pole tomato brand, increasing tomato acreage again this year, after expanding their operations in 2017.