March 9, 2017
Oppy sustains Best Managed streak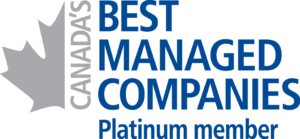 The Oppenheimer Group has once again been named a winner in Canada's annual face-off of best managed companies.
When the top organizations were announced today, Oppy's 16 consecutive year streak continued; the company was also named to the Best Managed Platinum Club for the tenth time.
Sponsored by Deloitte, CIBC, Canadian Business Magazine, Queen's Smith School of Business and MacKay CEO Forums, Canada's Best Managed Companies program recognizes organizations that have implemented world class business practices and created value in innovative ways. The Platinum Club honors top-performing companies that earn a place among the best for six years or more.
"It's great to be named to this prestigious group once again," said John Anderson, chairman president and CEO. "Next year, Oppy will celebrate 160 years in business. So for over 10 percent of our history, we've been recognized as a best managed organization. That's a fine credit to our strategy and the amazing commitment of people across the organization."
Oppy has been chosen every year since it first applied in 2001. Best Managed applications are reviewed annually by an independent judging panel that evaluates how companies address various business challenges, including new technologies, globalization, brand management, leadership, leveraging and developing core competencies, designing information systems and hiring the right talent to facilitate growth.
The accolades announced today recognize Oppy's 2016 achievements, including record revenues earned across its business units. Highlights that set the company apart last year include launching the joint venture with Rincon Fresh to strengthen its berry category; continuing to build a successful market for Jazz, Envy and Pacific Rose apples; developing demand for Zespri SunGold kiwifruit, delivering a record-breaking season for Orchard View cherries—underpinned by the new 'Pick your moments' brand positioning—and being recognized for having one of Canada's Most Admired Corporate Cultures.
"This recognition is only possible because everyone at Oppy lives our expect the world from us promise day in and day out," Anderson said. "It's a commitment we all make, and it's what helps us succeed in the complex landscape of our industry."