June 12, 2017
JAZZ™ Offers Sensational Prizes to Instagram Contest Winners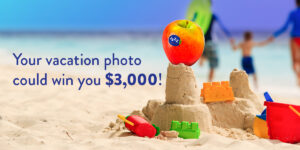 As consumers across North America pack their bags for summer vacations in the weeks ahead, the savviest among them will tuck in a little something extra—a freshly rebranded New Zealand JAZZ™ apple—with an aim to refresh their palates and their pocketbooks.
A $3,000 grand prize awaits the winner of JAZZ™ apples' Summer Vacation Sensation Instagram Contest, which encourages participants to post "sensational" photos of the fruit taken during their summer adventures. Additional memory-making prizes, like Yeti coolers, GoPro cameras, and other outdoor-fun gear, will reward runners-up. The contest begins June 19 and spans the next eight weeks.
"As part of the JAZZ™ brand refresh, we're reminding everyone of the apple's amazing portability," said Joe Barsi, president of T&G Global, North America, owner of the JAZZ™ apple brand. "With a dense texture and crisp crunch, not to mention an always-refreshing eating experience, a JAZZ™ apple is truly the ideal travel companion."
The contest asks participants to post images of JAZZ™ apples at any destination or vacation setting, creating a "brand buzz" while conveying the upbeat personality and versatility of the apple.
In the development of the refreshed JAZZ™ brand, research revealed that the apple resonates with well-travelled and socially-connected taste seekers—consumers who are always looking for the latest and the new, and who enjoy sharing their discoveries.
"We believe the contest will appeal to the precise audience the brand aims to reach, and are excited to present this high-profile, fun opportunity to attract and engage that audience this summer and beyond," said Brock Nemecek, regional marketing manager for T&G Global, North America. "This initiative will not only keep JAZZ™ apples top-of-mind and in shoppers' carts over the next couple months, but will also establish consumer connections that the brand will foster year-round."
T&G and marketing partner Oppy will work closely with retailers to generate support for the contest, while amplifying it on various social platforms through mid-August.
"This is a great opportunity for our retail partners to promote fresh-crop New Zealand JAZZ™ apples, said David Nelley, vice president of categories for Oppy. "The fruit is excellent in quality, and excitement is already gathering around the refreshed brand at the store level and on social media. It's going to be a great season, with numerous initiatives driving people to the JAZZ™ display."
Join the fun and post your most sensational travel photos, starring a fresh crop JAZZ™ apple, following and tagging @jazzappleus, and using #jazzsensation on Instagram.
JAZZ™ apples are available year-round via domestic and import crops and are offered exclusively by CMI Orchards, Oppy, and Rainier Fruit Company.