June 26, 2018
Oceanside Pole legacy grows with brand new energy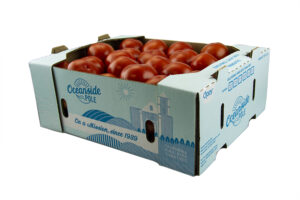 The Singh family has been On a Mission, since 1939.
In 2018, they have made that message official.
Packing this year's crop of Oceanside Pole tomatoes in bright, packaging featuring an iconic Southern California look, logo, and color scheme, the ethos of their new brand lies in the Singhs' enduring quest to grow the best-tasting, best-slicing tomatoes in the business for nearly eight decades.
As the last remaining true pole-grown tomato producer in California, the Singh family's story lends itself to an authentic brand proposition attractive to trade and consumers alike, said James Milne, vice president of marketing at Oppy.
"Our consumer insights show us that people love Oceanside Pole tomatoes for the simple reason that they are grown outside as Mother Nature intended by a family whose heritage is profoundly connected to the land," said Milne. "The tomatoes are picked at the right stage of maturity to naturally develop the perfect color and rich tomato flavor—which definitely gets noticed and applauded."
Milne described the year of spirited and insightful discussions with legendary grower Mr. Harry Singh—and his children who work with him—leading to an understanding of the nuances unique to Oceanside Pole and the development of the brand.
"All of this led us to a wonderful new positioning statement and brand platform for the Singh's full assortment of fresh produce," he said. "On a Mission, since 1939 speaks to their powerful legacy, daily commitment to flavor and quality, and the pursuit of excellence into the future."
Not to be overlooked is the proximity of growing location to Oceanside's historic Mission San Luis Rey which past generations of the Singh family helped build and sustain. Milne notes that the new packaging conveys continuity with past materials by including the silhouette of Mission San Luis Rey, while integrating a contemporary color scheme and logo.
"As a family, we felt it extremely important to develop a brand that honored our deep roots in Oceanside, our heritage and our beliefs, while conveying the intent of our approach," said Priya Singh, Oceanside Pole general manager and fourth-generation grower. "We're very serious about our mission to grow tomatoes and Brussels sprouts of outstanding quality and flavor, applying the expertise of many generations to provide delicious, beautiful fresh produce that enriches the lives of those who enjoy it."
In keeping with the growing popularity of Romas, the Singhs have doubled their Roma acreage since 2015.
Oceanside Pole tomatoes will be brought to you exclusively by Oppy, starting with Romas shortly then rounds in early July. Oppy Senior Sales Representative James Galindo will relocate to Oceanside, joining Priya and the team to connect all with retail, wholesale and foodservice needs over the course of the summer.
While Oceanside Pole tomatoes are ripe for "grown in California" local promotions, they are sought-after throughout the U.S. and can be to the buyer's color specification anywhere.