May 4, 2023
Industry celebrates Oppy's brand promise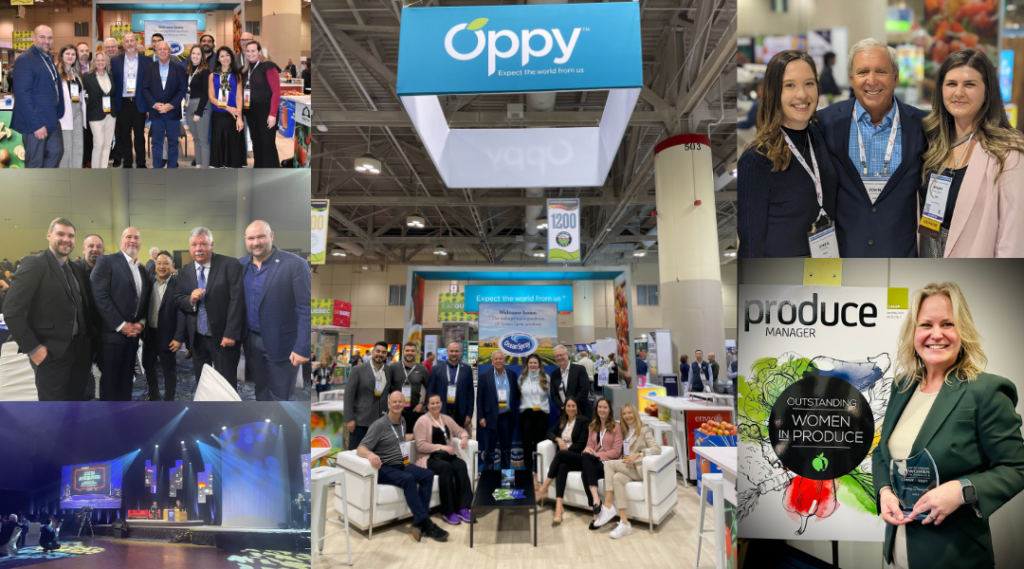 A sold-out show floor held nearly 300 exhibiting companies and a record number of attendees for two days of networking, learning and building business in Toronto last week, making it the largest CPMA ever.
The Oppy team had a busy week full of meetings, committee discussions, media interviews and more. There was much to celebrate this year with its 20-year anniversary of brand promise, expect the world from us. At the booth, Senior Marketing Specialist Shea Rogers executed Oppy's floorspace that included category-led kiosks and a full espresso bar with each tasty drink dressed in a coffee sleeve featuring the 20-year celebration emblem.
The booth buzzed with meetings and media interviews as journalists came to discuss Oppy's brand promise with Director of Business Development and Key Account Management Audrey Desnoyers, Director of Canadian Sales Colbert Rahal, Senior VP of Sales Brett Libke and Executive Director of Operations and Logistics Stewart Lapage organized by Marketing Communications Manager Kelsey Van Lissum. Stewart also represented Oppy as the moderator for the "Growing in produce" session at the trade show floor Learning Lounge. The group was among friends with folks from Divemex and Perpetual Vegetable Co. attending, along with a T&G team overseeing the grassroots Envy™ campaign which featured walking billboards, digital advertising trucks and sampling in and around the trade show.
Audrey was celebrated by her teammates at the "Women in produce" reception having been selected as an Outstanding Woman in Produce by Grocery Business Magazine, an initiative underwritten by CPMA. Audrey shared some experiences and words of wisdom in the publication, which you can see here.
The festivities ended in supreme fashion as Oppy sponsored the final night banquet. Oppy Retiree Walt Breeden was the host of the evening featuring the theme, "The CPMA Late Show". Chairman, CEO and Managing Partner John Anderson was interviewed by Walt to discuss Oppy's 20-year brand promise celebration and introduce a video showcasing what expect the world from us means to Oppy employees and stakeholders. A teaser video was shown from CPMA that unveiled the host city for 2024 CPMA — Oppy's home soil — Vancouver!
Big thanks to the stellar effort that was made behind the scenes by many to assure our brand and company was represented well. Excellent work all! Thank you and congratulations to everyone who contributed to Oppy's successful presence at the 2023 CPMA.