April 26, 2019
Day in the life… of Inventory Supervisor, Joyce Reed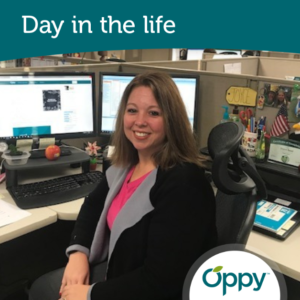 Living in Delaware all her life, Joyce hasn't strayed far from the city of New Castle which she says, is "15-20 minutes from almost anywhere I need to go!" She received a bachelor's degree in communication management from Wilmington College, now Wilmington University, while working as a part-time receptionist for an auto dealer, moving to their marketing department after graduation. When the recession hit, Joyce decided to look for opportunities outside of the automotive industry as both she and her husband were in the business.
Coming up on her 11-year anniversary, Joyce joined our Newark office in May 2008. An average day starts with ensuring all East Coast locations have accurate inventory and continues into working with storage locations, exporters and the Oppy team in getting our products to customers. Joyce particularly enjoys the Ocean Spray cranberry program each fall saying, "It's a fast-paced deal with a lot of different challenges and rewards. I love visiting growers and being a representative of Oppy."
Working with our people is what I enjoy most about my job. Along with those I get to meet from all over the world. I've learned so much about different cultures and traditions in other countries and in other parts of the United States," Joyce continued.
Married for 18 years to her childhood sweetheart, Joyce and her husband live with their 13-year-old son, two Labrador Retrievers and a cat. They enjoy vacationing in Chesapeake Bay, Virginia or when staying close to home, at the beautiful Delaware beaches. A perfect day to Joyce is being on the water with a fishing rod or crab trap.
With the motto, "regular shoppers have no idea what it takes to get the product to them," Joyce hopes to stay with Oppy for a long time and continue seeing the evolution of what it takes to get produce from the ground to the grocery store.