August 16, 2017
Envy™ hits the road to build greater following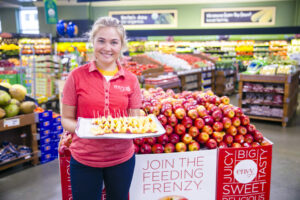 Photo by Christopher Huang
Envy™, voted America's favorite apple last spring, is attracting an even greater following thanks to a three-state sampling roadshow.
The sweet, crunchy low-browning apple, is a natural cross between a Royal Gala and Braeburn. Fresh-crop Envy, grown in its homeland of New Zealand, is taking center stage in the roadshow that began in Boston, Mass. in July.
Next to get a touch of 'Envy™' is the San Francisco Bay Area, with sampling events scheduled August 16 through September 14 at retail stores and other popular destinations, supported by local media buzz and social engagement.
Social sharing is heightening the excitement around the roadshow, which features a photo booth equipped with a customized Envy™ photo filter for people to easily share photos on their own social platforms. Interactive games, offering retailer gift card prizes, enhance the sampling events.
The Envy™ street team staged over 30 events in Boston, serving over 4,000 samples, creating over 7 million brand impressions, and bringing Envy™ to a major retail chain that had not previously stocked the apple in the summer—while elevating other retailers' July sales by up to 35 percent.
"The Envy™ roadshow kicked off in Boston and now moves to the Bay Area where retailers have supported the variety since its introduction," said David Nelley, vice president of categories for Oppy. "We're excited to support our retail partners with sampling events because we know once people try it, they are really taken with the crisp, juicy and sweet aspects of the Envy™ apple."
After San Francisco, the next stop for the Envy™ roadshow is Texas from November 1 – 30, when even more fans will be able to enjoy freshly-picked apples from Washington state.
"We look forward to meeting a lot of Texans this fall, but we're most excited that this final leg of the roadshow will give more of our retail partners an opportunity to treat their customers with the complete Envy™ experience," said Joe Barsi, president of T&G North America. The sampling and retail event schedule for Texas is developing now. To inquire about hosting an event, please contact your Envy™ apple sales representative.
Envy™ is a trademarked apple brand owned by T&G Global headquartered in New Zealand. T&G works with Washington state growers who grow the apple for domestic consumption and export. Working alongside T&G, are its three in-market agents, Oppy, Rainier Fruit Company and CMI Orchards.
Find out more about the Envy™ roadshow here: https://envyapples.com/en/roadshow.