December 15, 2017
Day in the life… of Senior Grower Accountant, Christina Parker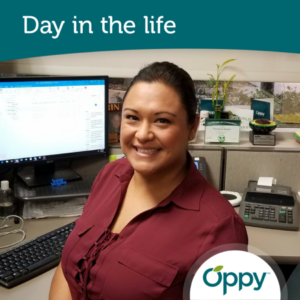 Christina grew up in Southern California and has lived in Diamond Bar, CA the past decade. After taking an accounting course in high school she knew she was going to pursue it as a career and went on to receive a bachelor's degree.
In the produce industry for over 10 years, Christina began her career at AMS Exotic. It was there she became familiar with Oppy and decided to apply for a position when it opened up. She recently celebrated her five year anniversary.
Being part of the A&F department, Christina wears many hats. Balancing between deal administrator, GA coordinator and grower accountant – no day is the same. She works closely with the category directors and CFA team to provide deal analysis and with growers to ensure their settlements arrive on time.
Christina and her husband have been married 10 years and share their home with two Great Danes. She spends her weekends tending to home improvement projects, taking their dogs to Huntington dog beach and spending time with their nieces and nephew. Christina also enjoys hiking and recently challenged herself to hike Mount Wilson which is a 13 mile trail in the San Gabriel Mountains.
During her time at Oppy Christina has especially enjoyed being part of the OppyU program. Enhancing her leadership skills and having one-on-one time with coworkers was a project she was passionate to be a part of.