October 13, 2021
Oppy donations stems fruitful partnership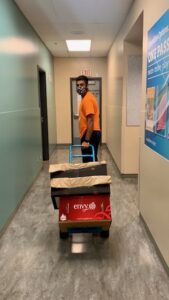 As a proud supporter of the City of Coquitlam, home of Oppy headquarters, the company was identified as the ideal partner for their fall healthy eating program. The city's recreation team hoped to launch a program where kids could learn about various fruits and vegetables, have taste tests, take grab-and-go produce from drop-in programs and distribute healthy snacks in their youth lounges. Having participated in a variety of their previous programs, such as the Heritage Picnic, Lights at Lafarge kick-off event and more, Oppy proudly accepted this offer that perfectly aligned with our values, and committed to provide 250 units of produce each week through the season.
Feedback from the City of Coquitlam's team has been ecstatic, according to Corporate Partners Program Coordinator Nancy Owens and Community Services Coordinator Tara Berdej. "The produce has been a popular addition to the youth center and has been a great way for staff to start a dialogue on healthy eating. We've also added fresh fruit into our parent and tot drop-ins, the other day kiddos were happily practicing their orange peeling skills and the Envy apples have been used in our recreational cooking programs to make yummy pastries," the duo said.
You can learn more about the program here. Thank you to everyone at Oppy involved in coordinating and delivering these well-deserved and well-loved donations.