September 18, 2019
Day in the life… of Sales Representative & Category Manager Eric Ziegenfuss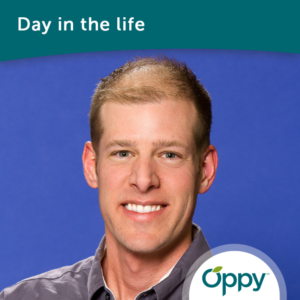 Residing a couple hours away from his childhood home, Eric currently lives in Oxford, Pennsylvania. After graduating from the University of Delaware in 2006 with a business management degree in food and agriculture and a minor in food marketing, he transplanted to Florida for a position in marketing at Rosemont Farms then moved back to Pennsylvania for a sales role with South Mill Mushrooms. Hired at Oppy in 2010, Eric looks forward to celebrating his nine-year anniversary in November.
A regular day for Eric is gathering information on the current market and trends and sharing that with his buyers. "Communication with the buyers and growers is essential to making the produce wheel turn and it's also one of the most gratifying parts about the business. No two days are the same but that's what keeps me coming back," he said.
Eric still keeps close ties with his alma mater through Produce Marketing Association's Center for Growing Talent after being part of its Emerging Leaders Program. "I think it's imperative to continue to attract young talent at Oppy. I give a presentation to a senior sales class each fall to talk about the produce industry and try to get students interested," he shared. He must be doing something right, current Oppy Sales Representative Stephen Sanders attended his class just a few years ago—he grabbed Eric's business card at the end of his session, reached out to him about getting a job after college and was hired as a sales assistant.
Married for 10 years to his wife Lindsey, they live with their two boys Tyler and Andrew and golden retriever Cooper. As a family they enjoy boating on the Delaware River or going for an afternoon Jeep or Humvee ride to get ice cream.
Like many of his counterparts, his favorite part about working at Oppy is the people. "We work in a wild and ever-changing environment which can test your tenacity at every turn. With all the challenges we face it's important to make sure you have a laugh every once in a while. The crew at Oppy usually keeps me on my toes and provides for a good laugh every day," he said with a smile.