January 19, 2018
Day in the life… of Sales and Transportation Coordinator, Ryan McGinnis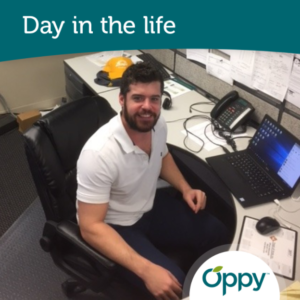 Ryan grew up in Worcester, MA and worked as a cook while in high school and through college. He moved to Florida to attend the University of Tampa where he received a business degree; loving the southeastern heat so much, he decided to stay.
With Oppy since 2014 in the Tampa, FL office, Ryan is responsible for tendering freight for the southeast US. His day consists of checking trucks for updates, monitoring delivered orders and ensuring shipments are where they should be at any given time. One of Ryan's favorite projects he has worked on is being part of the new third party logistics (3PL) program. He's excited to be part of this addition to the transportation department.
When he isn't working, Ryan enjoys scoping the local restaurant scene with his friends and fishing, golfing and playing softball year-round. He is also an avid Crossfit athlete, competing in regional competitions.