July 16, 2012
Retail-Ready Oceanside Pole Tomatoes Return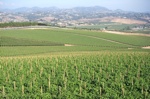 Oceanside, Calif. – Oceanside Pole tomatoes are back, and better than ever.
So says Aaron Quon, vegetable category director for The Oppenheimer Group. Since the full-service marketer and distributor created a partnership with renowned vine-ripe tomato producer Harry Singh, Jr. – innovator of the Oceanside Pole growing method — last winter, Quon has been impressed by Mr. Singh's operation as well as the response from retailers.
"Oceanside Pole tomatoes have earned a reputation for flavor and quality over many years, and rightly so," Quon said. "Harry Singh is an exceptional grower whose diligence and experience yields exceptional tomatoes. And now, Oppenheimer adds value to the program through our logistics and marketing expertise, as we focus on efficiently delivering the best premium tomato each and every time."
The season's first Oceanside Pole tomatoes are being harvested now. Quon points to the on-site color sorting and staging for retail readiness as a key differentiator for Oceanside Pole customers this season.
"In the past, color sorting and staging took place off site and was undertaken by third parties," he said. "Now, we've brought the process right into the pack house in Oceanside, minutes from where the tomatoes are picked. By consistently matching the tomatoes with our customers' specifications, we can deliver a true retail-ready pack."
And speaking of packing, Oppenheimer will phase in a newly-designed carton for Oceanside Pole tomatoes this season. The design reflects the heritage of the Oceanside, Calif. area, where Mr. Singh's family has farmed for over seven decades. The tomatoes will be packed into two- and -three-layer configurations.
Because these clean-slicing, richly flavored premium vine-ripe tomatoes are grown on poles, they can mature under the sun until they have reached the ideal stage. Tomatoes grown in Oceanside enjoy the benefits of the warm, coastal, mountainous microclimate, as well as the pole technology used to produce them — which keeps the tomatoes off the ground, lending to greater flavor and shelf life. Beneath the poles, mulch conserves moisture and prevents weeds, and drip irrigation is used to optimize moisture control. Enhanced air circulation enables the tomatoes to mature evenly. Oceanside Pole tomatoes are available from the Oppenheimer Group through mid-November.
Related website: http://www.oppyproduce.com
FOR MORE INFORMATION PLEASE CONTACT:
Karin Gardner, Marketing Communications Manager
Ph: 206-499-7440 / [email protected]