May 10, 2017
Refreshing JAZZ strengthens premium apple position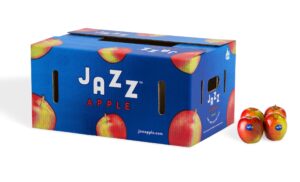 Fresh crop New Zealand JAZZ™ apples are arriving now — decked out with a sharp new look and attitude geared to drive even stronger sales of the top-10 apple.
Built around the powerful positioning of "The JAZZ Sensation," the new brand elevates the always refreshing eating experience delivered by the tangy-sweet, intensely crunchy favorite. Complete with a fresh new logo, and supported by a full suite of nimble visual components, JAZZ™ is primed to stand out in the category with contemporary colors, eye-catching graphics and a compelling brand message.
JAZZ™ apples originated in New Zealand, following a natural union of Royal Gala and Braeburn varieties. Sixteen years later, it's become a global sensation, growing in 10 counties under a closely controlled quality program, managed by trademark owner and one of New Zealand's largest horticulture exporters, T&G Global (originally Turners and Growers).
T&G Global introduced the new brand at Fruit Logistica in February, and has subsequently rolled it out market-by-market to great enthusiasm.
Darren Drury, T&G Global's executive general manager – pipfruit, said the refresh of JAZZTM represents a major investment by T&G that extends across all touch-points from packaging to promotions and sampling to digital platforms.
"Our consumer research identified an opportunity to reinvigorate our JAZZTM brand to reinforce its premium position," he explained. "We
operate in a highly competitive category, so it's vital to remain relevant while appealing to new consumers. Having discussed it with our growers, sales agents and customers we felt the time was right for a global refresh."
Importantly, the esteemed ENZA quality mark will appear alongside the new JAZZ™ label, providing assurance that the long-standing quality and eating experience of JAZZ™ has not changed.
"The new JAZZ™ brand will engage consumers with an exciting new website and relevant social content aimed at creating a deeper relationship between JAZZ™ and its global fan base," said Drury. "Our research guided us to focus JAZZ™ marketing efforts on well-travelled and socially connected taste seekers; consumers who are always looking for the latest and the new, and who enjoy sharing their discoveries. A durable, versatile, great-tasting apple like JAZZ™ is a perfect fit for this spirit and lifestyle, and our refreshed approach will place more JAZZ™ into their sphere."
Available soon from Oppy, fresh crop New Zealand JAZZ™ apples will be supported by high-impact custom promotions arranged in partnership with retailers throughout the U.S. and Canada.
"JAZZ™ ranks third in the list of premium apples for dollar contribution in the produce department," said David Nelley, vice president of categories at Oppy. "Its growth has been steady over the last decade and a half. The refreshed brand will renew existing connections with JAZZ™ apples as well as build new ones across North America."
JAZZ™ apples are also available from CMI Orchards and Rainier Fruit Company primarily during the domestic season.
Drury says T&G is pleased with consistent growth and demand for JAZZTM across the company's traditional markets including Germany, the UK and USA alongside newer markets such as Thailand, China, Vietnam and Japan.
"We've built up a stronger presence in our key markets and our people are better placed to further support our customers and work alongside growers on our year-round growing program," he said. "We are also looking for new growth opportunities. It's an exciting time for JAZZTM and we're looking forward to sharing our new-look journey with customers, growers and consumers."