October 17, 2017
Premium apples drive category sales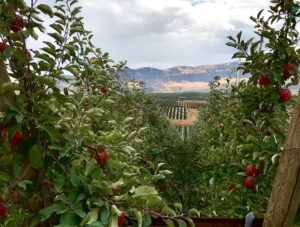 The once-flat apple category is showing signs of life, with branded varieties like JAZZ™, Envy™ and Pacific Rose™ attracting new apple shoppers with their high color, robust flavor and satisfying crunch.
"Fresh off the trees in Eastern Washington, this year's JAZZ™ crop is a beauty," said Joe Barsi, president of T&G North America. T&G Global, the Auckland, New Zealand-based brand owner—along with Oppy and a host of supportive retailers—have propelled the tangy-sweet, super crunchy apple to its top three position in sales performance among premium apples.
"While JAZZ™ is well-established at retail, it continues to create excitement thanks to a faithful following, as well as new fans we're winning with integrated consumer and trade marketing initiatives," Barsi said. "JAZZ™ began shipping in early October, following a brief respite between the New Zealand and Washington seasons, and customers were eager to restock as the first fruit came off the trees."
Barsi noted that this is the first season Washington-grown JAZZ™ apples will appear in the refreshed brand which debuted with the New Zealand crop earlier this year. Like many Washington varieties, JAZZ™ is sizing slightly smaller than typical this season. Envy™, which is peaking smaller as well, will be promoted in a highly visible retail roadshow in Texas next month, following appearances in Boston and San Francisco last summer, according to Barsi.
A $4.2 billion category in the U.S., apples have grown 1.3 percent in volume and 2.1 percent in sales between mid-year 2016 and mid-year 2017, driven by greater supplies and a consumer acceptance of a higher priced apple that delivers on taste, according to David Nelley, vice president, categories for Oppy.
"Sales of premium apples are up 48 percent since 2013," he said. "That's the segment of the apple market Oppy specializes in and has been known for, for years. JAZZ™, Envy™ and Pacific Rose™ deserve credit for rejuvenating the category. We're welcoming the U.S.-grown ENZA varieties knowing that we're progressing positive category results."
Envy™, already seated in fifth place in sales among premium apples, will be harvested in the third week in October, as will the sweet, crisp Pacific Rose™.
"Envy™ sales increased over 60 percent during the New Zealand season," Nelley said. "Our most significant growth has been in California and the U.S. Southeast, though other regions are not far behind. Meanwhile, Pacific Rose™ continues to carve out a niche with consumers who like a sweet alternative to a Fuji."
During the Washington season, JAZZ™, Pacific Rose™ and Envy™ are offered by Oppy, Rainier Fruit Company and CMI Orchards.
Oppy, which is owned in part by T&G Global, exclusively markets these varieties grown organically.
Learn more at PMA booth 1339.