June 22, 2017
Pick your moments with Orchard View Cherries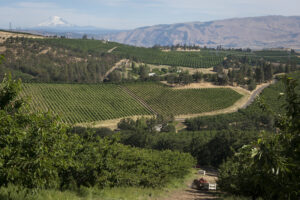 Orchard view cherry harvest, The Dalles, Oregon
As the first Orchard View cherries are being picked in The Dalles, Oregon, exclusive marketer Oppy is urging consumers to "Pick Your Moments" to enjoy these celebrated, superior cherries through summer.
"We launched the Pick Your Moments brand positioning last year and were excited how well it resonated with our staff, customers and consumers, too," said Brenda Thomas, Orchard View's president. "As with any season, many great 'moments' have taken place in the orchard over the recent months as the cherries matured and our harvest time arrived."
"Now, the cherries we've grown can be part of special moments in our consumers' lives, on their picnics and patios, hikes, road trips and so much more," she continued. "Summer is filled with great moments, and our cherries are grown to be part of them."
Thomas notes that the retailers can 'pick their moments' as well, with memorable promotional campaigns orchestrated with the help of Oppy's business development team. "We believe that we've grown the sweetest, best-tasting cherries available at any moment of the season, and our customers can promote them knowing they'll consistently deliver the enjoyment summer cherries are all about."
High-graphic packaging and signage featuring the Pick Your Moments message will encourage shoppers to enjoy Orchard View cherries while creating memories of good times shared.
With harvest beginning about two weeks later than last year, Orchard View and Oppy anticipate strong cherry supplies for July. Both Orchard View and the Northwest cherry industry as a whole are anticipating an uptick in volume.
"There are many variables involved in growing and selling cherries," said David Nelley, Oppy's vice president, categories. "Perhaps unique in the industry, Orchard View either owns or directly manages the cherries they pick, pack and ship, giving them a particular advantage when it comes to quality."
Another proven asset is the Unitec optical sorting line Orchard View installed in 2016, equipped to separate cherries by color and size while culling out quality concerns.
"The sorter's 48-lane capacity efficiently delivers great consistency within the pack," Nelley said. "Everything that's picked is packed the next day. There's no storing bins of picked cherries and this is a real difference. Orchard View already enjoys a reputation for sweet, juicy, strong cherries. Now they can handle capacity, and the optical grading makes the fruit even more eye-catching at retail."
Orchard View grows carefully selected varieties, including Kordia, Skeena, Regina and Santina, in microclimates east of Hood River, where conditions are dry and temperatures moderated by the Columbia River.
Oppy, with staff located in The Dalles for the Orchard View season, just wrapped up its inaugural campaign with the internationally sought-after Brookside California cherry label. The marketer plans to continue bringing only the best-quality cherries to market with Orchard View fruit available now through mid-to-late August.