July 8, 2019
OriginO to shine at OPS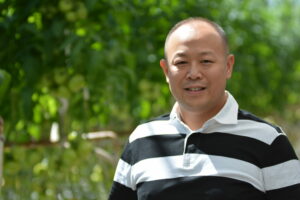 A cornerstone of Oppy's signature branded organic produce line, OriginO tomatoes, cucumbers and peppers will be featured at the full service fresh produce marketer's booth at the upcoming Organic Produce Summit.
Visitors to booth 407 can catch up with grower Raymond Wong and sample new cocktail tomato varieties currently being trialed at Origin Organic Farms, the Delta, BC home to the OriginO brand. Now at the height of the season, the Canadian organic greenhouse pioneer is enjoying strong demand for his core items and is eager to hear expert opinions on his potential new tomato varieties from the trade attending this popular event.
"OPS brings together thought leaders in the organic industry," Wong said. "We always come away with good insights and ideas. And of course it's great to catch up with customers about how the season is unfolding in their stores and in our greenhouses."
Wong adjusted his growing mix slightly this year, adding more orange and yellow sweet bell peppers to meet the strong demand for colored bells in the summer months, noting the flexibility that greenhouse production enables to meet the needs of the market. All OriginO branded organic items are produced exclusively in soil, which Wong advocates as the true growing method for greenhouse organics.
"The OriginO team has a huge amount of passion about growing organics 'the right way,'" said Darren Bonnell, greenhouse category manager at Oppy, the exclusive marketer of OriginO greenhouse products. "They only pack produce they feel very proud of into their brand, and that says a lot about the quality our customers and their shoppers ultimately experience. They really do set the gold standard on quality and especially flavor."
OriginO branded organic greenhouse cucumbers are available from Oppy through October, tomatoes-on-the-vine and peppers through December. Learn more at OPS booth 407.