June 13, 2018
Oppy names MacDonald and Gardner to new director roles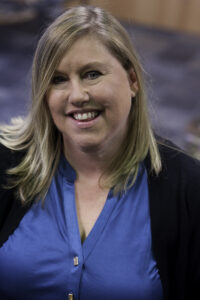 Oppy has promoted a pair of veterans to newly created leadership roles within its marketing team.
On June 1, Marketing Development Manager Cathie MacDonald was elevated to director of marketing services, while Karin Gardner, previously marketing communications manager, was promoted to director, corporate communications.
"Cathie and Karin have contributed significantly toward our goals with a unique blend of thoughtfulness and passion for more than 25 years apiece," said James Milne, vice president of marketing. "Few have worked harder behind the scenes, driven by a belief in what we do and perseverance that yielded remarkable results. Their complementary expertise has helped Oppy evolve to become the full-service marketing company we are today."
MacDonald began her association with Oppy in 1991, serving as the marketing coordinator for ENZA Fresh, Inc. in Vancouver. When ENZA Fresh, Inc. was absorbed into Oppy in 1997, MacDonald became the company's trade relations manager. Subsequently, MacDonald has served in marketing roles of increasing responsibility, including promotions manager – marketing; packaging and marketing development manager, and creative services and marketing development manager.
As Oppy evolved into new areas like brand development, packaging and design, MacDonald was often charged with the task of building and executing the strategy. As such, she manages a creative services team that brings the vision to life.
"Cathie has consistently been our go-to leader as we've branched out into new marketing disciplines," Milne said. "And she always comes through with unique and practical solutions. We're looking forward to enabling Cathie to drive our strategic focus on innovation in her new position."
Complementing MacDonald's new role, Gardner will lead Oppy's internal and external communications initiatives and execution of related strategies. Gardner joined Oppy in 1992 with a freshly minted journalism degree from the University of Washington as a public relations assistant. She was promoted to communications manager in 1998, going on to serve in various marketing communications capacities.
Gardner was recognized in 2006 as one of Produce Business Magazine's 40 Under 40 and named among The Packer's Women in Produce in 2011. Active with United Fresh and the Produce for Better Health Foundation, Gardner served as the PBH Marketing Communications Committee chair in 2008-09.
"Karin combines the craft of good writing with her love of the produce industry to shine the spotlight on Oppy and our brands and products," Milne said. "Using various media, she has shaped our narrative for more than two decades, elevating our profile and striving tirelessly to create a consistent presence for Oppy and our grower family."
In her new role, Gardner will lead the strategic aspects of marketing communications, focusing the team's results with a blend of traditional and new media, while also linking more deeply with the communications priorities of the executive team.
"As Karin, Cathie and I sat around the same table many years ago to craft, alongside an agency partner, the Oppy brand promise of expect the world from us, I am delighted to say these promotions couldn't go to two more deserving people who live this pledge each and every day," Milne summed up.