March 13, 2017
Oppy honors culture with sci-fi inspired video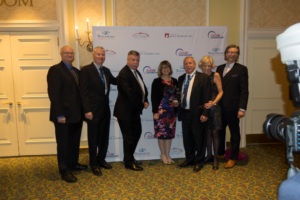 Late last year Oppy was honored by Waterstone Human Captial as one of Canada's 10 Most Admired Corporate Cultures in the program's enterprise category. Along with this designation Oppy was challenged to create a 45-second video culture snapshot of our organization with sci-fi as the genre.
With help from Mellenger Interactive Ltd, the Vancouver office turned into Oppy studios for the day in late January. With a green screen, cameraman, boom operator and director on set! Talent from sales, category management, QC and the warehouse stepped up to bring Oppy culture to life on the big screen. A month later the Oppy team was given a sneak peak of the Oppy Enterprise video with a movie poster, red carpet and space blueberry cupcakes.
On March 2 John Anderson and wife Jo-Anne were joined by five members of the Oppy team at Canada's Most Admired Awards Gala in Toronto to receive the award and present the highly-anticipated video.
This celebration brought together 750 highly-engaged leaders and team members from organizations across Canada to celebrate through an entertaining night of humor and video. With four categories of 10 award-winners, Oppy stood by enterprise category associates such as Air Canada, Maple Leaf Foods and CIBC.
The video was presented without a hitch and received a round of applause. The team is proud to say they were well-represented with our fun and creative video that displays a unique look at Oppy culture.
Oppy Enterprise from Oppy on Vimeo.