February 21, 2023
Oppy adds Spanish garlic to its hot streak
Zesty product lines continue to trend upward as Oppy includes garlic and ginger to its mix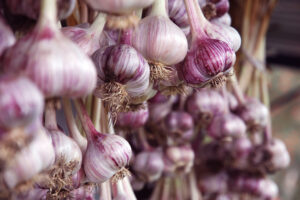 Boosting its spicy offerings as of late, the leading grower, marketer and distributor of fresh produce adds garlic from Spain to its product mix amid organic ginger success.
Arriving on both the East and West coasts, Oppy's conventional Spanish garlic is available year-round in bulk and 3-pack mesh bags. Varieties include pure white, spring white, spring violet and morado in a range of sizes — Oppy is exploring further options, including black garlic.
"We believe this is going to be an excellent addition to our range of global products," shared Executive Director of Berries and Canadian Category Development Aaron Quon. "With our customers sharing considerable interest in garlic for some time, we carefully picked a program with superior quality that is sure to expand."
Oppy is working with several trusted grower-partners in Spain, the world's second largest garlic exporter.
Quon continued, "Building off of our Peruvian organic ginger from recent years, we look forward to serving our customers and their shoppers with spicy additions as they continue to trend upward." According to Nielsen data, dollar sales of garlic increased 43% over the last five-year period.
Reach out to your Oppy sales representative and join the team at CPMA in booth 1220 for more.