September 14, 2017
New IT tech becomes Visalia's BFF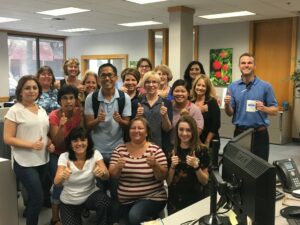 A few short months into his career at Oppy, the new Carson-based IT Tech Michael Pascual has already proven his expect the world from us chops.
He traveled to Visalia to add a workstation and assist with a full-fledged equipment rearrangement that was underway in advance of Barbara's retirement at the end of September. While he was there Michael made many friends while exceeding expectations.
"It was a Three Ring Circus!" said Amy Bianchi. "We threw all the pieces of a puzzle up in the air and then started putting the puzzle back together, and we could not have done this without Michael!"
Others in Visalia concurred that Michael was a lifesaver. "He took his time and had patience like no other," said Desiree Martinez.
Amy noted that while demands were intense, Michael was never stressed and always smiling. "Without him we would have been lost, and would probably still be trying to figure out where to plug in," she said.
At the end of the day, Michael was spotted on his hand and knees in the office telephone room with a brush and a piece of card board cleaning up the carpet.
Thank you, Michael, for sharing your expertise with style!