November 2, 2023
John leads the way with IFPA chairmanship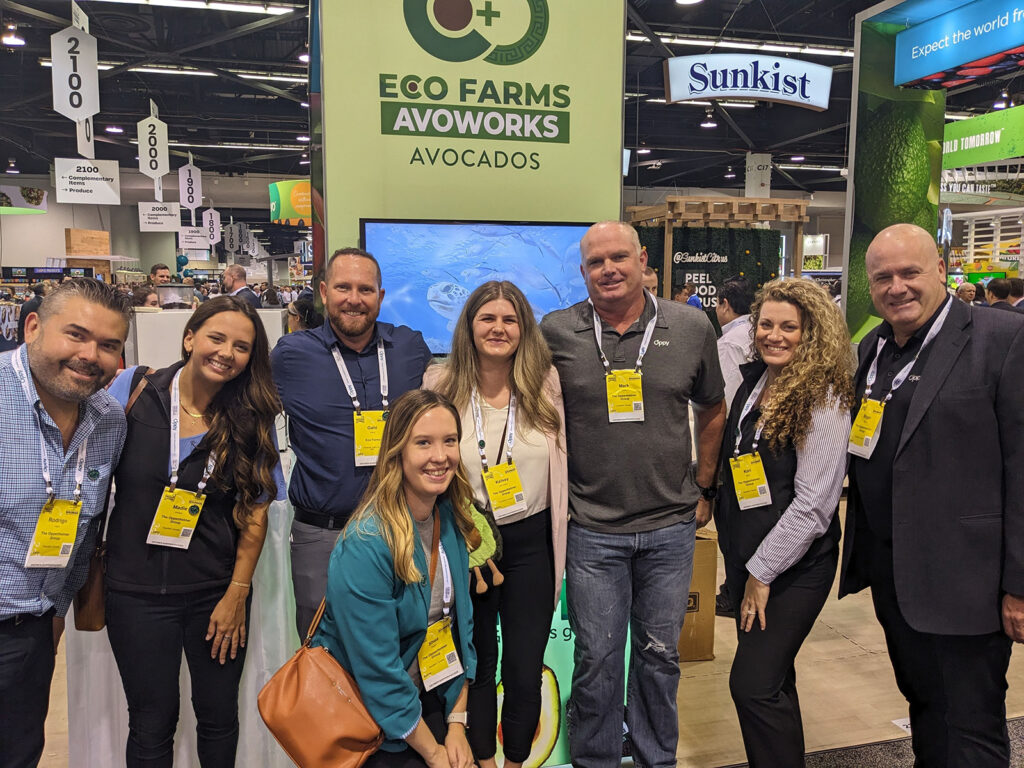 With over 60 countries attending and 1,160 exhibitors, the 2023 Global Produce & Floral Show was in full force this year — with particular excitement at the Oppy booth as its Chair, CEO and Managing Partner John Anderson became this year's IFPA Chair. The team was proud and ready for a busy week ahead, undertaking over 170 meetings, with growers, retailers, media and more.
As teammates arrived and grower-partners trickled in, including friends from T&G, Eco Farms, Avoworks, Red Dog, Divemex and Perpetual Vegetable Co., excitement peaked when John took center stage before Apple Co-Founder Steve Wozniak's compelling keynote, and even got an envious pic with the apple legend.
The first day of the show started in the wee hours of the morning at the Race for a Healthier World 5K where Oppy participants repped a new shirt with the 20-year expect the world from us emblem on the back. Senior Marketing Specialist Shea Rogers ensured all was running smoothly at the booth including handing out enamel pins and dressing each drink from the espresso bar in the 20-year anniversary emblem, as well as handing out Oppy's new avocado blend samples in partnership with Avoworks and Eco Farms.
Meetings and media interviews filled Oppy's kiosks and table spaces as journalists came by to discuss Oppy's latest avocado solutions with its debut of the Avoworks-Eco Farms 100% home compostable pack (learn more here). Category Director of Citrus and Avocados Rodrigo Lopez, Director of Sales and Strategy for Eco Farms and Sales Executive Mark Smith, and Director of Innovation and Sustainability Garland Perkins shared their insight and excitement for the new innovative packs in interviews organized by Marketing Communications Manager Kelsey Van Lissum. Reporters were also updated on Envy apple's latest happenings by T&G's Head of Marketing Cecilia Flores, which included captivating ads around the convention center and its closest airports, along with registered dieticians stopping by for swag and fun. Garland also paired with Isabella Serrate of University of Florida as career ambassador through IFPA's Career Pathways Program.
The team then hosted its annual Aftershow Reunion at Disney's Grand Californian Hotel in the Napa Rose, an elegant space with premier chefs serving its guests directly from the range.
On the last show day John joined Oppy's female leaders at the Women's Fresh Perspectives Breakfast for an inspirational speech by Olympian and Advocate Allyson Felix. As the show floor quieted down, it made for more impromptu meetings as many began their travels home.
Thank you to our Executive Assistants Dee Homsavath and Ambar Mota, and Administrative Assistants Rhonda Leggett and Madie Johnson for organizing nearly every aspect of the show and keeping the team well-coordinated. A special thank you to John and the executive team for supporting this group of Oppy personnel in strengthening their connections in the industry — and well done to all for representing the team at this important event.