March 2, 2018
Envy™ apples shine at New York Fashion Week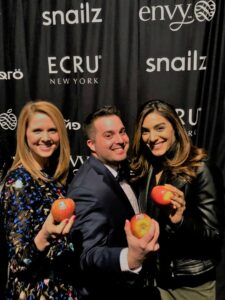 Envy on the red carpet is nothing new at New York Fashion Week, but this year it took a refreshingly sweet turn when its namesake apple hit the runway.
Envy™ apples made their NYFW debut in style by joining the international designers at the February 9 Flying Solo fashion show to deliver an unforgettable taste of the new and now.
"As a premium apple, Envy™ appeals to early adopters who pursue the latest in lifestyle trends, be it food, fashion or culture," said Garland Perkins, retail solutions specialist at Oppy who orchestrated the NYFW sponsorship. "The apple category is a crowded one, so the more we can meet consumers where they are—in and out of the store—the better. People everywhere read fashion blogs and magazines and watch Instagram stories posted by their favorite designers. NYFW gave us the chance to grab their attention in a space where they are already deeply engaged."
Not only was the fruit enjoyed by the Flying Solo audience and VIPs, the event was broadcast live via Envy's Instagram feed and featured on the apple's other social media platforms.
Perkins notes that T&G Global, who owns the trademark rights to Envy™, has garnered success in similar events like last year's Thailand's Bangkok Fashion Week, and will participate in the Virgin Australia Melbourne Fashion Festival in March.
"The Envy™ apple consumer is someone we think of as an 'aspirer'; a busy person who lives a fast and full life," said David Nelley, vice president of categories for Oppy. "They look for smart choices that reward, nourish and break the routine, and perhaps even consider a special apple like Envy™ essential to their individual style."
In honor of Envy's first appearance at NYFW, local stores dressed up the apple display with NYFW point-of-sale material and ran a social media contest urging shoppers to "Be the Envy of Fashion Week" and win a $500 shopping spree.
"Participating in NYFW enabled us to creatively share Envy's story in the store," Perkins said. "It gave us one more compelling aspect of the apple to talk about as we build the Envy™ brand alongside our partner T&G Global in North America."
Oppy looks forward to wrapping up the Washington Envy™ season in the coming months then flowing with customers directly into the fresh Envy™ crop from New Zealand this spring.