September 13, 2017
Divemex offers more organic peppers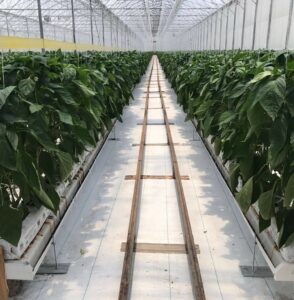 Organic peppers from Divemex's brand new greenhouse facility in Ahualulco, Mexico made their debut last week, opening a season that promises increased organic offerings and continued high quality from the innovative greenhouse grower.
Thanks to the warmer climate in its central Mexico location, the Ahualulco greenhouse complex complements Divemex's existing production in Culiacan and Etzatlan, and extends the season by beginning production about five weeks earlier.
Like all vegetables produced by Divemex, every red, green, yellow and orange pepper produced in the new greenhouse is Fair Trade Certified.
"Divemex continues to lead the industry in many ways, including producing top quality Fair Trade organics," said Aaron Quon, Oppy's executive category director, greenhouse and vegetables. Oppy is Divemex's exclusive marketing partner. "They recognized the strength of the organic market, and were able to translate that trend into an even more positive proposition by offering an organic program of the best quality in the business. And it's backed by a well-recognized socially responsible label."
Consumer familiarity with the Fair Trade Certified seal is at an all-time high, according to the 2016 NMI State of Sustainability in America study, which cites that two thirds of the U.S. general public recognizes it, while 73 percent of millennials do. Meanwhile, organic produce sales are up nine percent in the last year, and more than 50 percent of organic shoppers support Fair Trade.
"We're excited to not only jump start the season with Divemex organics peppers, but to have the volume to keep customers engaged through the winter and spring," Quon said, noting that over 40 percent of Divemex's offerings, including sweet bell peppers and mini peppers are now organically certified. The grower also offers conventional sweet bell peppers and long English cucumbers.
The focus on organics is a key aspect of Divemex's strategy encapsulated in their new positioning line "Growing Beyond Expectations."
"We're investing our energy in areas that can make a meaningful difference for our customers, in this case the availability of superior quality organics," said Luis de Saracho, Divemex CEO. "Our goal is to grow alongside them by providing peppers that consistently satisfy and delight their shoppers. We strive to offer more than what is simply expected; we want to exceed expectations by always delivering the best eating experience while associating Divemex with doing the right thing for people and the planet."
Look for more about how Divemex is growing beyond expectations with numerous themed promotional campaigns launching throughout the coming months, including Fair Trade Month (October), holiday festivities, healthy New Year habits, a social recipe contest entailing colorful cookware prizes and more.