December 18, 2019
Day in the life… of Special Projects Manager Bilkis Laher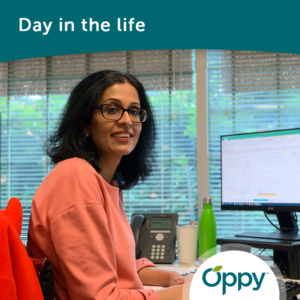 A world traveler since she was only 4 years old, Bilkis has lived in countries across Africa, Europe and North America before settling in Vancouver, BC almost two decades ago. Born in Zaire, now known as the Democratic Republic of Congo, Bilkis gained over 20 years of experience in operational accounting while working in Toronto, London, Paris and her current hometown. She received her bachelor's degree in commerce and economics from the University of Toronto and hasn't stopped studying since, becoming a Certified Management Accountant (CMA) and receiving a certification in project management from the University of British Columbia in 2017.
Prior to joining Oppy in 2007, Bilkis worked with Nelvana, one of Canada's leading animation studios , which is responsible for bringing beloved classic characters like Babar and Franklin to life. Her work now includes a wide range of responsibilities with a major focus on the accounting and finance department's strategic, business and operational efficiency projects, where she works closely with the IT software developers and the accounting team leads.
Still a world traveler at heart, she visited the breathtaking Grand Canyon with her husband Faizel last June, while their next adventures will take them to Norway, Denmark and Sweden to experience the splendor of Scandinavia.
"I feel very lucky to work with a lot of smart colleagues," she said, adding that the wealth of knowledge and support from staff members was why she loved working for Oppy. A member of Women in Leadership at Oppy (Wilo), Bilkis hopes to give back through mentoring women on the technical aspects of operational grower accounting.