January 17, 2020
Day in the life of… Sales Representative Rosemary Marrella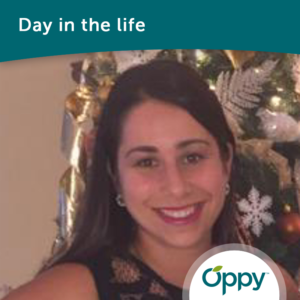 Born and raised in Toronto and now residing in Vaughan, Ontario, Rosemary obtained a bachelor's in political science from York University as well as a human resource management certificate from Humber College.
Rosemary developed an extensive array of professional experiences on a journey that ultimately led her to Oppy. These included working as a human resources assistant and later a quality control technician at Starplex Scientific, a plastics packaging manufacturer, an assistant to the vice president of sales at Jan K Overweel, a food importer and distributor for seven years, in addition to joining Westrow Food Group in 2013 to facilitate organic produce sales. She is also an accredited pharmacist technician, having worked part time in the pharmacy at Shoppers Drug Mart for 11 years.
Rosemary joined Oppy in March 2015 as a sales assistant and never looked back. Based in Oppy's Toronto office, she was promoted to sales representative in January 2020. She enjoys her work because no two days are alike and is a big fan of the hustle and bustle of the cranberry and mandarin seasons.
Married for 11 wonderful years, Rosemary has three beautiful daughters: 10-year-old Sierra, as well as 8-year-old twins Ava and Alyssa. She likes to vacation at least once a year and also spends her time biking, camping, gaming and watching movies with her family.
"Working at Oppy has a real 'home-like' feeling," she said, adding that talent, friendliness, helpfulness and teamwork are abundant and that working together to accomplish goals is a daily occurrence. "All Oppy people are truly wonderful at what they do," she said.