November 15, 2017
Day in the life… of Oppy Quality Assurance Manager, Joe Mazur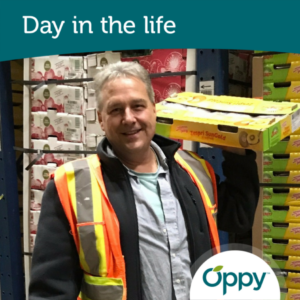 Joe was born in Pennsylvania and raised in Wilmington, Delaware. Starting his career in produce at Chiquita and Del Monte, 17 years ago Joe was hired at Oppy. Joe attributes Oppy to being the most dynamic, diversified and technically advanced of the three companies and values its strong company culture.
Working closely with commodity managers, Joe is the primary contact for chain store field buyers ensuring they are continually pleased with their product orders. He demonstrates the Oppy systems with various visitors alongside the QC, allocation and repack teams to implement new and evolving customer requirements. During the summer, there is increased interaction with USDA staff to monitor product releases and heavy workloads coming into the repack room meaning Joe helps keep a close eye to ensure products meet spec. Joe especially enjoyed being part of the Champions of Change.
In their downtime, Joe, his wife Gabriela, daughter Ella and son Jake enjoy travelling to Maryland and the Jersey beaches. They also have a knack for fishing and look forward to their yearly trip to the Florida Keys.
Joe is positive about the future of Oppy and looks forward to being part of its continued growth.