July 6, 2023
Day in the life of… Executive Director of Operations and Logistics Stewart Lapage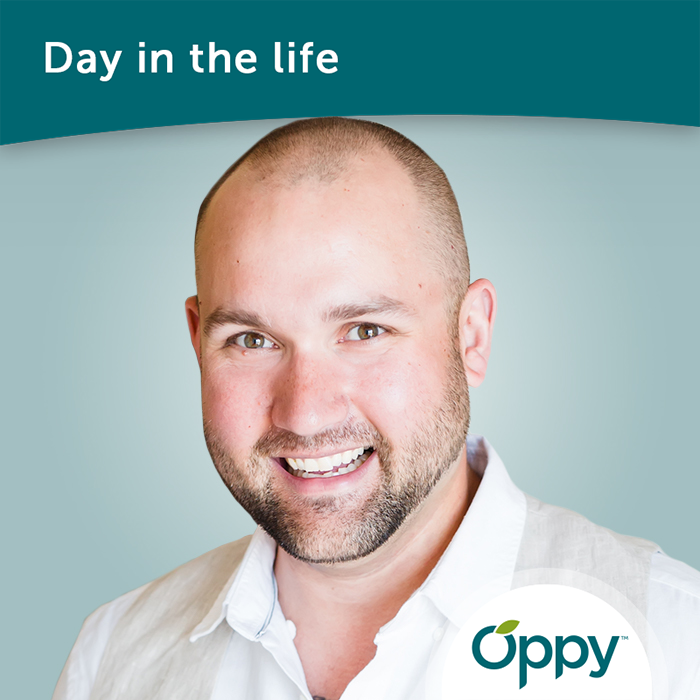 Currently residing in Alberta, Canada, Stewart is originally from the west coast, where he pursued his education in business administration and marketing at the University of British Columbia. Starting his career in transportation and logistics at C.H. Robinson Worldwide, where Oppy was his customer, he joined the team as transport and supply chain manager in 2014.
Stewart explained, "No two days, weeks, or months are the same. Like many individuals at Oppy, I assume multiple roles and responsibilities, providing oversight across various aspects of the business. This is one of the many reasons why I am passionate about what I do; the opportunities, challenges and tasks are ever-changing." In recent years, Stewart's most notable project was establishing and implementing Oppy's third party logistics (3PL) department. He described it as an exhilarating and collaborative experience, as he had the freedom and support from the leadership group to help build a new division within the company over the last decade.
Stewart actively participates in industry committees, including the International Fresh Produce Association's (IFPA) supply chain council and the Canadian Produce Marketing Association's (CPMA) Canadian government issues management committee and customs working group.
According to Stewart, what truly sets Oppy apart is its people, "Being surrounded by so many smart, passionate and dedicated people who are always willing to help each other and work together is something special. I feel fortunate to be a part of it."
Stewart cherishes moments spent with his wife Brittany and their two children, seven-year-old Hudson and four-year-old Stevie. They enjoy camping together in Southern Alberta with their dog Hank. Additionally, Stewart likes playing hockey especially as it keeps him on his A-game for coaching his son's team.
Looking ahead, Stewart is thrilled to witness the continued growth and evolution of the company while preserving its strong culture and identity. He emphasized the importance of maintaining a standard of excellence and nurturing pride among Oppy's employees. Stewart aims to expand the business without losing sight of the qualities that make Oppy truly remarkable.