November 10, 2016
Zespri kiwi runs with Disney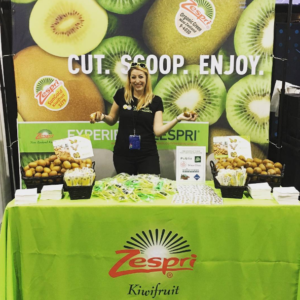 Business Development Representative Caitlin Klueber sampled green and SunGold kiwifruit at ESPN's Wide World of Sports Complex at Disney World in Orlando, Florida, where The Wine & Dine half-marathon weekend three-day Health & Fitness Expo was held. Race participants and their family members were able to pick up their race gear, purchase running equipment, and this year, try samples of Zespri kiwifruit.
Caitlin and three Zespri brand ambassadors interacted with approximately 40,000 attendees and sampled over 15,500 pieces of fruit. With many children having their first experience trying kiwi and many adults having their first experience trying SunGold, this was a great opportunity to engage with potential customers about the great taste and health benefits of Zespri kiwi.
In addition to sampling fruit, the team handed out spifes to tout the "Cut and Scoop!" snacking method, stickers, sunglasses (which were a huge hit, as many runners said they would be wearing them proudly during their races) and LOTS of napkins.
Disney coordinators were impressed by the positive response from attendees about the Zespri booth. Runners frequently said that they heard about the kiwi the moment they entered the expo and couldn't wait to see what the buzz was about and try one for themselves!
This event was a great success in bringing excitement to Zespri kiwifruit as Disney has invited the booth to participate in future Disney Expos in both Florida and California.