March 23, 2020
Spring grapes to debut in favored label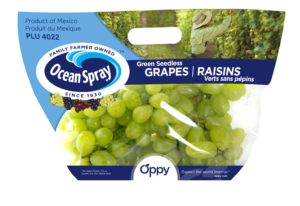 Oppy harnesses Ocean Spray® brand power to bring outstanding grapes to market
Building on its popular Ocean Spray® Family Farmer-Owned berry and citrus partnership, Oppy plans to ship its first grapes with the esteemed brand in May.  
As a premier grower, marketer and distributor of fresh produce around the world, Oppy will launch the Ocean Spray branded grape line with the Mexican season, then transition to its well-established California program in the summer, and move into imports by the fall. Oppy will offer its high-brix grapes under the widely recognized Ocean Spray label, which has become synonymous with quality and trust.
"The Ocean Spray brand is a household name that has earned consumers' trust by consistently delivering exceptionally high-quality products for decades, which makes our partnership a natural match," said Oppy's Senior Vice President of Categories and Marketing James Milne. "The growing range of produce that Oppy offers under this well-known and beloved brand also meets top quality standards and exceeds customer expectations across the board."
The Ocean Spray brand grapes will leverage a unique consumer opportunity identified in a 2019 independent survey, which noted that 70% of respondents couldn't name any brand of grapes at all. The study subsequently indicated that Ocean Spray outperformed existing grape brands across all metrics including purchase intent as well as appeal, setting the stage for a successful program moving forward.
"We're thrilled to be continuing our robust partnership with Oppy and deliver high-quality, nutritious fruit to families worldwide," said Chris O'Connor, Chief Marketing Officer at Ocean Spray. 
With an average of 52 Ocean Spray products across grocery store departments, the power of the Ocean Spray brand extends its influence on purchases in the produce section with this partnership. The addition of grapes builds on the successful berry and citrus line, as indicated by another third-party 2019 survey, with nearly 70% of study participants being well-aware of the Ocean Spray berry brand, and the majority of purchasers holding an extremely high or favorable opinion of it while recognizing the brand as a mark of high quality.