September 11, 2019
Orchard View picked more than moments this season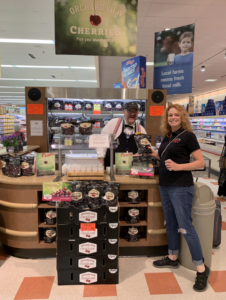 Wrapping up a record "Pick Your Moments" season, the Orchard View Cherry team reflects on its many exceptional moments in 2019.
"This was our largest volume year ever," said Brenda Thomas, president of Orchard View Cherries, of The Dalles, Oregon. "But the defining moment was that we had consistently phenomenal quality. Because temperatures were quite moderate, the sugars were able to develop more fully, making for very sweet cherries. This allowed us to have less stressful days so that we could enjoy the wins that much more."
A noteworthy win Orchard View celebrated was the 10th anniversary of its partnership with exclusive marketer Oppy. "We're thrilled to be toasting to our union alongside a record volume increase of 10%–it truly was a 10/10 year," said Oppy's Senior Vice President, Categories & Marketing James Milne.
"It's been a great partnership because we all work so well together. We're lucky to have commemorated multiple milestones all in one fantastic year," Thomas said.
This season brought a wave of positive comments from consumers throughout the shorter-than-typical seven-week season spanning June 13 through August 1. One said in an email, "Just a note to let you know your cherries are exceptional and the best I have ever eaten. I was amazed at the freshness and superior taste of your cherries, which far surpassed any I have eaten in my 60-year life! Believe me, I do not write emails to growers which means you made a large impression on me." More reviews came in from the Orchard View social media platforms Thomas stated, "We can't believe the number of times we see people remark that our cherries are the best they've ever eaten. It's what keeps us going each year."
With coast-to-coast distribution, Thomas got to hear some of those comments in-person while visiting an Orchard View Cherry tasting station at an Eastern U.S. retailer. She shared, "People always have their own special story about cherries, they seem to usually bring up a cherished memory from when they were kids. Cherries really are a treat and people appreciate that because they are only in store for a limited time." Thomas also expressed her gratitude for her customers, "I'm so thankful for the support we've received from retailers through promotions, engaging displays and more! Our team works very hard to get fruit to market in pristine condition and we're so grateful our retail partners present them to their shoppers with care and creativity."
Milne added, "Each summer we're blown away by the response in the market. No one wants to miss out on these premium cherries while they're here for a limited time."
Oppy Sales Manager Larry Hanson can attest to that, as he's been relocating from his home in Nogales, Arizona to the farm each season for the last eight years. "I am honored to be a part of shipping these phenomenal tasting cherries each year. Brenda and her team don't take shortcuts. They pick to eat, and picking at the right time is of the utmost importance to them," Hanson said.
Another milestone on the horizon is Orchard View's 100-year anniversary quickly approaching in 2023. "We can't wait for the day we get to say our fresh cherries have been enjoyed around the globe for over 100 years," Thomas said excitedly. While the team routinely trials new varieties, Thomas explained what cherry lovers can look forward to, "We're not necessarily seeking out a certain taste in a cherry but rather one that fully embodies the characteristics of a cherry everyone looks for—a bright exterior, plump, juicy and sweet interior and bright stem. We hope to celebrate our anniversary with the cherry of the future."
Until then, just like Santa Claus on Christmas Eve, as soon as one season ends, preparations begin for the following year. "You could say it's just like that," Thomas laughs.