December 2, 2016
Oppy recognized for CPS contribution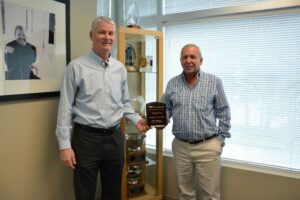 CEO John Anderson and Executive VP & Chief Operations Officer Doug Grant pose proudly with the plaque acknowledging Oppy's $100,000 donation to the Center for Produce Safety Campaign.
The "Funding Science, Finding Solutions"-themed campaign has raised over $10.4 million since its launch in September 2015. CPS seeks to raise funds for critically needed, actionable produce safety research.
Doug Grant has served on the CPS Board of Directors since June 2016 making the Oppy team even more honored to support this initiative.
"The safety of fresh fruits and vegetables is one of our industry's most critical concerns, and we have taken it very seriously at Oppy for a long time," said John Anderson. "We appreciate this opportunity to invest in the future of the produce community and the health and well-being of consumers worldwide."