November 6, 2018
Oppy premium apples drive sales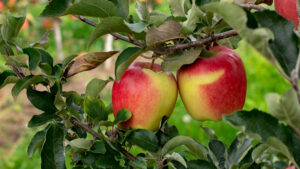 With a winter apple program highlighted by four of the highest valued premium apples at retail, Oppy is set to help retailers drive sales with the best in flavor, crunch and eating experience through the months ahead.
David Nelley, vice president of Oppy's apple, pear and cherry categories, notes between the BC Ambrosia, and Washington-grown JAZZ™, Envy™, and Pacific Rose™ Oppy offers four of the top 10 best-performing premium varieties in volume.
"Premium varieties now represent over a third of all apples on the shelf," Nelley said. "It's no secret that consumers are demanding more from the apples they buy. Now our customers have the task of selecting the combination of varieties that most excite their shoppers and contribute to the category. With so many good apples to choose from, we're pleased to see Ambrosia, JAZZ™, Envy™ and Pacific Rose™ allow retailers to be regionally right depending on the flavor profile down to store level."
Nelley notes that growing conditions throughout the summer have yielded a crop of high quality and preferred size profile.
"The BC Ambrosia is absolutely stunning this year," Nelley said. "Growing in volume in BC, Ambrosia rightly holds the number three spot on the premium apple sales performance list. It's well-established with consumers and offers a color break, with BC Tree Fruits rebranding in 2017 to segregate their superior quality standards over other Ambrosia grown around the province."
Not far behind Ambrosia is JAZZ™, the "always refreshing" apple that began shipping in late October from Washington. Tangy-sweet JAZZ™ is sizing larger this year than last, and Oppy is offering greater volumes of organic JAZZ™ than ever before. The JAZZ™ brand is owned by Oppy's partner T&G Global of Auckland, NZ, as is the Pacific Rose™ and increasingly popular Envy™.
"With the Washington crop showing awesome color, this is the first time we've been able to offer Envy™ over a 12-month supply window," Nelley said. "Growing by 24 percent in category sales contribution in the last year, we continue to be very excited by Envy™. Naturally non-browning, bright red and sweet, Envy's wide appeal makes it be best apple to originate out of NZ since the Royal Gala when I started out in this business," said Nelley.
Not to be surpassed, especially by those who prefer a delicate, sweet flavor is the Pacific Rose™, which has quietly fulfilled an important niche, according to Nelley. Skewing to a slightly older shopper with a higher household income than typical apple purchasers, Pacific Rose™ also delivers strong results with ethnic retailers and in the stores of mainstream chains that serve Asian and Hispanic neighborhoods.
"Pacific Rose™ has long enjoyed popularity with customers in Asia," he said. "We've also built the market for it domestically in recent years, and have collaborated with T&G to develop a new brand and brand positioning for the apple which we believe will enhance its appeal in North America when it launches in December. Most of the Pacific Rose we offer is produced by the Crane Family Orchards in Brewster, Wash., whose perfect growing conditions and commitment make its quality exceptional."
Contact Oppy for more detail on these category-driving varieties today.