January 20, 2020
Oppy offers robust 360-degree services with premium winter apple program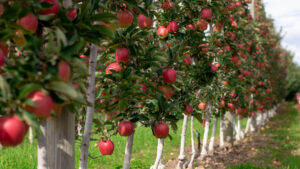 Oppy's exceptional winter apple program — featuring such premium brands as JAZZ™, Pacific Rose™, Envy™ and Ambrosia — is poised to amplify the category in 2020.
The leading fresh produce grower, marketer and distributor can leverage its 161 years of experience to deliver efficient services and a seamless transition between domestic and import growing seasons. Oppy's multifaceted logistical systems and international reach complement the high-quality standards — consistent flavor, texture and appearance — shoppers know they'll receive among the popular JAZZ™, Pacific Rose™ and Envy™ varieties. Ongoing success of Oppy's winter program is evidenced by its apples ranking within the category's top 15 varietals.
"Premium apple varieties are playing an increasingly important role in providing growth to a category in a state of flux, as it tries to meet the changing needs of today's shoppers," Oppy's Director of Apples & Pears Roger Aguirre said. "Their success reflects the evolving consumer preferences that have become more nuanced, more demanding and more varied. Oppy has responded to these market conditions, providing targeted and dynamic services to retailers, so they can reach and satisfy their shoppers with what they want."
The leading apples comprising Oppy's winter program offer unique eating experiences, delivering size, texture and flavor profiles to suit all shopper demographics.  
JAZZ™ pressures are registering near 22 pounds — an impressive level in January, Aguirre noted — which translates to the supreme crunch shoppers seek. With a sweet and tart flavor that holds a distinctively wide appeal, and perfectly sized for snacking, JAZZ™ offers convenience without comprise. Organic and conventional JAZZ™ are available in two, three and five-pound bag programs to cater to differing consumer needs.
Pacific Rose™, conventional and organic, continues to hold a strong visual appeal, with its eye-catching red and pink hues. Its distinct aesthetic, coupled with a sweet, mellow flavor, has built a niche, but fiercely loyal, following throughout the years; in both North America and internationally. Promotional opportunities are well-suited for this variety, particularly when timed with relevant occasions — like Valentine's Day — and are supported by Oppy's all-inclusive library of promotional materials.
The original Ambrosia, native to British Columbia, retains its unrivaled quality and offers a sweet, crisp apple that also stands out in the apple set with its bright red hue, accented by yellow undertones.
Envy™ remains a key category driver, delivering consistent year-over-year volume growth. Envy's success is driven by its exceptional flavor profile — fruit forward, with a subtly tart finish — as confirmed by independent sensory testing undertaken in the spring of 2019. Results revealed shopper preference for Envy™ in terms of taste, appearance and texture over rivals including Honeycrisp, Cosmic Crisp and Fuji. (see www.theultimateapple.com).