February 13, 2019
Oppy names Canadian sales managers for East Coast expansion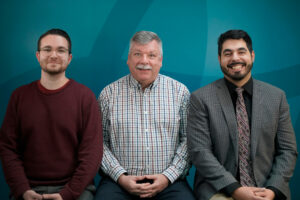 In a move to grow Canadian sales, Oppy has promoted David Wazny to sales manager of the team based in the company's Vancouver, BC headquarters and Colbert Rahal to a newly created role of sales manager of eastern Canada.
The pair has followed a parallel career path at Oppy, both being promoted to senior sales representative early last year. Their experience has situated them aptly for their new managerial roles which will bring a fresh perspective to the sales strategy, according to Vice President of Canadian Sales Walt Breeden.
"We're going through a significant growth period in Canada as a whole, but especially in the east. As we evolve into new areas, I know we'll have the right guys on our side. Their deep knowledge of our products and relationships they've made within the past decade will take us far," Breeden said.
Getting his start in produce at retailers Urban Fare and Overwaitea in Vancouver and its vicinity, Wazny joined Oppy in 2012 as a sales representative. He has since taken a significant role with Oppy's kiwifruit partner Zespri and established a strong rapport with customers. Breeden explained, "David is very much a team player and exudes the spirit of Oppy's culture through and through. He has an energy that uplifts people and encourages them to take on a challenge which will help take our Vancouver team to new heights." Wazny has a diploma in urban land economics from the University of British Columbia.
Complementing Wazny's role and remaining in the Vancouver office, Rahal will guide the Toronto team, directing strategy and development initiatives to expand retail sales for Canada's East Coast. First stepping into the industry as produce marketing coordinator at Gordon Food Service in Vancouver's lower mainland, he worked at Costco in Ottawa, Ontario as inventory control specialist for almost three years where he built a robust understanding of the eastern Canadian market. Hired at Oppy in 2011, Rahal has grown particularly close to Oppy's vegetable growers such as Divemex, Oceanside Pole and SunSelect. "A true strategic thinker, Colbert is driven by numbers and getting results. His goal-oriented mindset is exactly what we need to cultivate business in the east," Breeden said of his mentee.
Reporting to Breeden along with current Calgary Sales Manager Derek Lenko, Wazny and Rahal will continue to grow as trusted leaders within the full-service fresh produce marketing and distribution company with this opportunity as bright new managers, Breeden said. "I am very confident in our Canadian team with these two stepping up and look forward to what they'll accomplish," he concluded.