April 10, 2018
Mike Omeg named 2017 Good Fruit Grower of the Year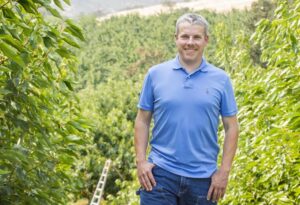 Operating in The Dalles since 1908, Omeg Family Orchards owner and operator Mike Omeg is a fifth generation cherry grower. With a master's degree in entomology, he is an award-winning agriculturist and organic pest management conservationist, making him the epitome of a good fruit grower.
Adjacent to the Omeg Family Orchards is Oppy's long-time cherry partner, Orchard View Cherries, owned and operated by the Bailey family—also awarded Good Fruit Grower of the Year in 2003. Neighbors since the 1920s, the Omeg and Bailey families have joined forces this year to farm over 3,000 acres of sweet cherries together. Congrats Mike on your accomplishment and again, welcome to the Oppy family!
Learn more about Mike here.