September 18, 2017
JAZZ™ Apples Earn Sensational Results from Interactive Summer Promotion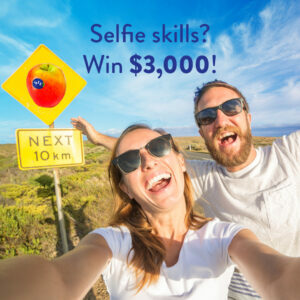 This summer, JAZZ™ fans declared their dedication to the always refreshing apples by including them in their vacation plans and then sharing those experiences on Instagram via the Summer Vacation Sensation photo contest. From Disneyland's Main Street, USA to the Big Apple itself, JAZZ™ was featured as the perfectly portable snack in hundreds of North American consumers' vacation photos this summer, delivering broad brand exposure and keeping JAZZ™ top-of-mind and top-of-shopping lists throughout the summer months.
With many participants submitting multiple photos to the contest, there was no shortage of visionary brilliance. Spanning eight weeks, the contest received more than 500 photo submissions on Instagram and produced a social reach of 170,000+ and more than 5,600 interactions from consumers. "A terrific result as personal testimonials and evangelism for products have been reported to be the most trusted forms of online communication," says Brock Nemecek, regional marketing manager of T&G North America, owners of the JAZZ™ apple brand.
"We were absolutely blown away by the number of submissions, not to mention the time and effort many entrants dedicated to creating their amazing photos," he said. "Whether contest participants are long-time or recently converted JAZZ™ fans, we believe that initiatives like these encourage their continued passions for healthy eating and repeat purchases of JAZZ™ apples."
T&G worked with sales partner Oppy's marketing team to amplify the contest which ran during the New Zealand JAZZ™ season. "Imported JAZZ™ sold out in record time this summer," said David Nelley, vice president of categories for Oppy. "Paired with the success of the contest, it's apparent the JAZZ™ sensation is being embraced by apple consumers."
Energized by a $3,000 grand prize, entrants were challenged to put their photography skills to the test by snapping a pic with JAZZ™ apple during their "sensational" summer adventures and then following and tagging @jazzappleus on Instagram while using the #jazzsensation hashtag. Photos were judged on originality, artistic merit and overall impact. From the many breathtaking destinations and creative snapshots, four deserving shutterbugs were chosen as the winners.
The grand prize winner was @moneymanredbeard who carefully sculpted a JAZZ™ apple to show off his son's "core" strength. A GoPro drone went to second place winner, @aeh931, who photographed her toddler daughter on a "road trip" with a Red Rock Canyon sunset as a backdrop. @nomadicnymph, who enjoyed a JAZZ™ apple while whale watching in Nova Scotia, won third place and a prize of a $750 REI gift certificate. Finally, fourth place was awarded to @fetchgretch5 who won a YETI cooler for her virtual road trip photo.
T&G and the JAZZ™ brand will integrate many photos from the contest into their social media and digital content and advertising campaigns to inspire taste-seekers to bring the apple on their adventures throughout the year. For the latest news about the upcoming JAZZ™ Washington crop, additional promotions, and exclusive content, visit www.jazzapple.com.
JAZZ™ apples are available year-round via domestic and import crops and are offered exclusively by CMI Orchards, Oppy, and Rainier Fruit Company.
About T&G Global
T&G Global, formerly known within North America as ENZAFRUIT Products Inc or EPI, is currently celebrating 120 years in business. Headquartered in New Zealand, T&G is the country's largest exporter of fresh fruit and vegetables. It owns the trademark to Envy™, JAZZ ™and Pacific Rose™ which are all grown in North America through partner growers to satisfy growing global demand. T&G has offices around the globe including Los Angeles and Wenatchee, WA.