December 5, 2018
Frank & Able's winter TOV crop set to double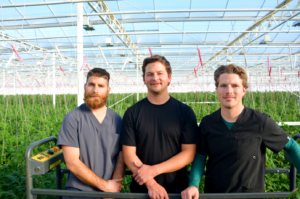 Now there's a bigger house on the Prairie, and its lights will be on through the long winter.
Leading Southern Alberta greenhouse producer Frank & Able shipped the first tomatoes-on-the-vine grown in their newly expanded facility in early November. Having doubled their acreage under lights just ahead of the first snowfall, brothers Dirk and Keith Vis, and their brother-in-law Devin Jaspers, are set to meet the winter demand for quality Canadian TOVs.
"As Canadian consumers have increasingly expressed their desire to have local food options in grocery stores year round, we are proud to help provide this with the expansion of our facility," said Dirk Vis, general manager. "When you experience the harsh conditions of a winter on the prairies, you recognize pretty quickly why the production of vegetables in our area isn't an endeavor many sought out. Fueled by an excitement to fill the void of local produce in the market, we take on these environmental challenges with a state-of-the-art facility along with a knowledge and passion for growing."
Frank & Able announced a partnership with full-service fresh produce marketer Oppy last spring, bursting on the scene with a distinctive brand and an even more distinctive product, said Aaron Quon, executive category director of greenhouse. "The quality has been nothing short of fantastic. We are consistently impressed, and so are the customers who stock Frank & Able in Canada and throughout the U.S. Now that we've moved into the new winter crop, these tomatoes-on-the-vine are not to be missed."
Quon notes that despite the challenges of last summer's TOV market, steady and reliable supplies of top-notch Frank & Able tomatoes gave the new brand a solid foothold but especially with Western Canadian customers.
"Dirk and the team chose the brand promise Put the best on your table, and there's no question that they live up to it," Quon said. "They care a great deal about every aspect of producing flavorful, juicy tomatoes. With the expansion, and the unique proposition of Canadian TOVs in the winter time, we're eager to grow with Frank & Able."
Oppy markets Frank & Able TOVs in bulk, vexar and random-weight cello bags.