February 12, 2019
Envy apples shine @NYFW and at retail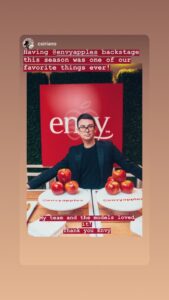 Envy™ apples are turning heads once again.
Making another appearance at the internationally acclaimed New York Fashion Week (NYFW) last weekend, this time Envy™ apples created even more excitement through a special partnership with Christian Siriano, the innovative young designer of Project Runway fame. Guests of Siriano's AW19 Runway Show and after party enjoyed an Envy™ apple tasting bar, signature Envy™ cocktail and other tasty treats as Siriano unveiled his latest collection.
While Envy™ took the spotlight on the catwalk, the apple is also stealing the show at retail, chalking up a 40+ percent increase in year-over-year dollar sales as of December 2018. "This sweet, crisp, red apple is outpacing all others at an exceptional rate," said David Nelley, vice president of categories for Oppy, a marketing partner of T&G Global, owner of the Envy brand. "Envy™ is coming on strong in the premium apple landscape, gaining a great reputation for intense flavor and overall satisfaction—and valuable leading contribution to the apple category."
Nelley notes that retailers in Manhattan and beyond are taking advantage of the campaign by promoting Envy's return to NYFW. "Our point-of-sale materials, consumer contests, social content and even some fun billboards popping up around the Big Apple are bringing the promotion alive at shelf," he said.
Streaming a live-feed of the event on the brand's Instagram story, trend setters and apple aficionados alike can re-live the fashion-forward fun on Envy's highlights. Siriano shared insider secrets of his show while praising Envy™ as the ideal backstage treat to his over one million Instagram fans.
In addition to the promotional opportunity the sponsorship presented, it also builds familiarity and equity for the Envy™ apple brand, according to Karin Gardner, director of corporate communications at Oppy.
"Christian Siriano is renowned for creating special, beautiful clothing that can be worn by everyone. His sophisticated style and elegant point of view complement the unique traits of Envy™ apples," she said. "Envy™ has earned a special status but is also accessible and can be appreciated by everyone who loves a really good apple. It's an indulgence that anyone can enjoy."
Organic and conventional Envy™ apples are available now from Oppy, with the two-pound organic pouch bag among this season's must-haves.