August 20, 2020
Day in the Life of… Operations Coordinator Seth Malusa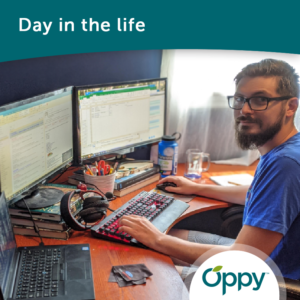 Born and raised in Delaware, Seth graduated from University of Delaware, his hometown's university with a degree in agriculture and natural resource management with a focus in applied economics and statistics. Prior to joining Oppy, Seth worked at his alma mater as a researcher of environmentally-friendly pest management solutions for commercial growing sites.
Seth joined the team in October 2014 as a transportation coordinator at the Manfredi office. Shortly after, he moved into an operations assistant role in Newark before taking on his current position as an operations coordinator. The days go by quickly for Seth and his contributions are an important part of a team effort that is one of the reasons behind Oppy's consistent and proven track record for delivering shipments on time.
He works closely with operations, sales, accounting, and inventory to make sure that urgent requests for shipments and the availability of storage containers meet retailer demands. Seth also ensures that cargo crosses borders as seamlessly as possible by processing the many necessary documents.
In efforts to improve sustainability at Oppy, Seth worked closely with IT to help develop the Document Upload system in Optimo, which has led to improved processes and paperless trails. Seth is thankful for the strong work culture at Oppy and the ever-changing nature of working in produce. He looks forward to working with new systems to improve Optimo and one day, taking a trip to Peru to meet some of Oppy's esteemed growers.
On the weekends, you will most likely find Seth restoring his 1977 Chevy C10 pick-up truck, or spending time with his partner, a soon-to-be professional chef.
As a die-hard Philly sports fan, Seth would like to add: "Go Birds, and trust the process!"