March 22, 2017
Day in the life… of Kyla Shelefontiuk, Greenhouse Category Coordinator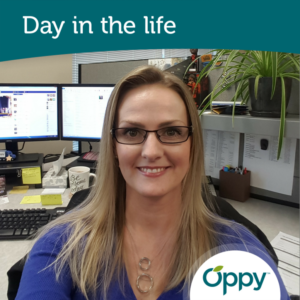 Kyla was born and raised in BC, Canada – noting she can't imagine living anywhere else in the world! Finishing high school six months early, Kyla was eager to enter the work force and experience life. She worked at a battery factory for eight years which was her first taste of operations and inventory control then moved on to three years in transportation and five years in blueberry sales.
Her work experience led her to be hired at Oppy in 2015 where she started on a contract in transportation and quickly moved to packaging. Recently Kyla has been promoted to the greenhouse category where she is just getting her feet wet and is excited for this new opportunity to grow. Kyla says every day at Oppy is fast-paced, "the industry is ever-changing, evolving and growing. Every day is a new experience!" Her favorite Oppy projects are being involved in charity week and being featured in Oppy's sci-fi short, the Oppy Enterprise (see it here!).
In 2015 Kyla married her husband – fellow Oppy employee Jason Shelefontiuk, operations and inventory control coordinator. She has a 15-year-old son and 8-year-old daughter along with her 23-year-old stepson. Family is number one for Kyla. They love to spend time on Gabriola Island at their cabin and road trip any chance they get. They hope to drive down the Oregon coast this summer.
Kyla says, "working at Oppy has been a life-changing experience for me. Oppy is filled with talented, hard-working people who truly do their best to fulfill the expect the world from us culture. I don't know what the future has in store for me but I'm eager to dive in!"